When I set out to write a book about small spaces, I never imagined how many different types of kitchens I'd uncover in my research. The 14 we photographed for The Little Book of Living Small run the gamut from a relatively luxurious kitchen in an open-plan house to a corner of a tiny home, but no matter the size or setup, they were all functional spaces where the homeowners could prepare a meal to nourish their friends and family. 
I firmly believe great meals can be turned out in 50 square feet just as easily as they can be made in 500 square feet, much as I believe that a larger home does not equal greater happiness. In fact, I might argue it's easier to cook in a smaller space where everything is close at hand. Having worked two summers for a catering company, I know that it's entirely possible to prepare meals for 50 on two portable propane burners with the top of a cooler and a lobster trap as my only work surfaces. You can cook just about anything just about anywhere, with whatever you have on hand.
I'm not alone in my belief that a small kitchen is not a barrier to fine cooking. Writing in the New York Times, where he was once a columnist, cookbook author Mark Bittman relayed a time when a journalist asked him what he considered essential in a modern kitchen. Bittman replied, "A stove, a sink, a refrigerator, some pots and pans, a knife, and some serving spoons. All else is optional." 
However, a small kitchen is a challenge to keep tidy—especially if you love to cook. Here are 10 solutions from The Little Book of Living Small to make your small space work harder:
Photography by Weston Wells, from Laura Fenton's The Little Book of Living Small.
1. Declutter to free up space.
The fastest, easiest way to make your small space feel more spacious is to declutter. Period. Less stuff equals more space. Whether it's a once-in-a-lifetime Kondo-style purge or a weekend here and there of editing, decluttering is key to making a small kitchen work. Here are some things you might donate: Duplicate items (how many wooden spoons do you really need?), rarely-used tools and appliances (if it hasn't been used in six months, can you do without), any plastic containers or jars that don't still have their tops, and any dish towels you'd be embarrassed for guests to see.
2. Think vertically wherever you can.
A hanging fruit basket clears up counter space and lets your produce breathe. A magnetic knife rack is a more efficient way to store your cooking knives than a traditional knife block and is much safer than keeping sharp knives in a drawer with other utensils. A pegboard has been a classic way to make use of vertical space in the kitchen ever since Julia Child famously hung her batterie de cuisine from one in her Cambridge kitchen. A few cup hooks installed to the underside of your cabinets creates an easy-access coffee station and frees up some cabinet space formerly used by your mugs.
3. Treat the fridge as a storage space.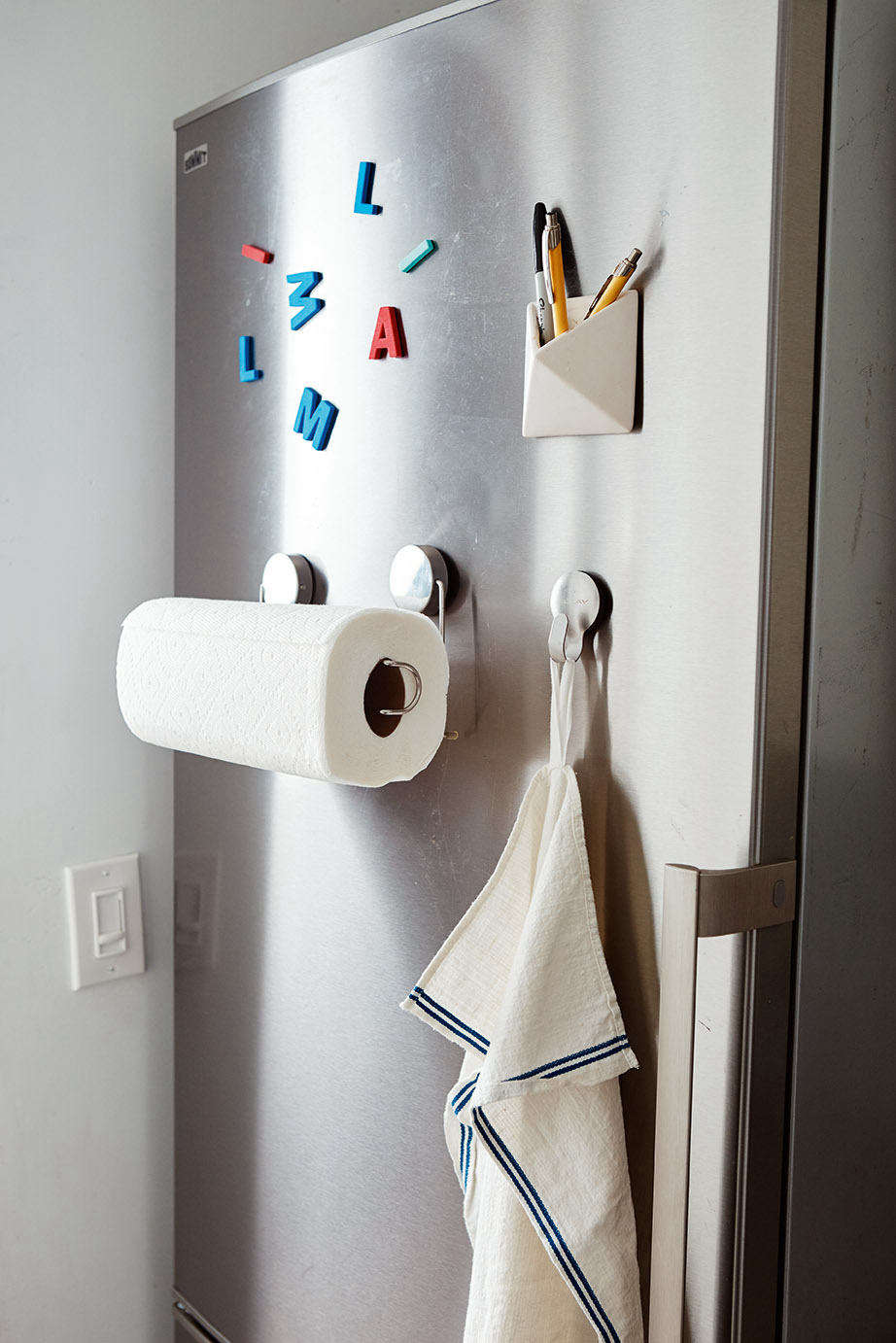 Clear your fridge of the usual paper clutter and put that space to work with magnetic organizers. These handy tools include paper towel holders, spice racks, and even knife racks.
4. Go mini with your drying rack.
An over-sink dish rack frees up the usual two-square feet that most dish racks take up. They only hold a few dishes, but you can keep a microfiber dish-drying mat tucked away for times when you have a large number of dishes to dry.
5. Add a work surface.
If you're super-pressed for counter space, an over-stovetop cutting board can give you a much-needed work surface (while you're not actively cooking, that is!). If you've got a large sink, there are also over-the-sink cutting boards. 
6. Use the space above your cabinets.
Add a few bins to the under-utilized space above your cabinets. You can store items you've bought in bulk, like paper towels or foods from a wholesale club, rarely used appliances, and party supplies. And if you're renovating? Take kitchen cabinets all the way to the ceiling to maximize your storage space. (You'll never miss that awkward space above your cabinets, I promise.)
7. Think outside of the kitchen box.
If you're short on storage in your actual kitchen, perhaps you can fill a bookcase or cabinet in the living or dining area with your dishes and serving pieces. Decorator Glenn Ban used a large vintage bookcase to supplement his meager kitchen cabinet space.
8. Take down the doors.
If you're the tidy type and have kitchenwares you're happy to show off, consider removing the doors from your kitchen cabinets like professional organizer Shira Gill did in her Berkley, CA home. Opening up the cabinets will give your kitchen some breathing room—and keep you honest about keeping the dishes orderly.
[image of Shira Gill's kitchen from p. 137]
9. Give your sink a minimalist makeover.
Instead of a hand soap and a dish soap, use one mild dish soap that can do double duty. Try to pick one dish scrubbing device that can tackle all your dishes, instead of multiple specialized sponges and brushes. 
10. Tidy up every night.
Kitchen counters are clutter magnets. The secret to keeping your small space ship shape is to put everything away every night, so the detritus of daily life doesn't have a chance to build up.
For more on small kitchens, see: