You've heard the hype. Now would you like to know what it really feels like to live in a tiny, 160-square-foot cabin? You can rent one in the woods in New England (two hours' drive from Boston) for $99 a night. Pack light.
Designed by Getaway, a startup founded by two Harvard students, the three cabins are meant to be as much social experiment as  weekend lark. "There's a huge gap between people who post stories to Facebook about living in tiny houses and people who actually live in one," Getaway co-founder Pete Davis told Fast Company.
Photography by Kataram Studios courtesy of Getaway.
Above: One of three tiny cabins, the Ovida sleeps four. Each cabin is sited in a different mystery location: "We will notify you of your specific location 24 hours before your trip," Getaway co-founders Davis and Jon Staff promise. "The adventure is part of the fun, so sit back and enjoy the magic."
Above: Designed by student architects, the Ovida is furnished with a queen-size bed, two twin-bed sleeping nooks, a kitchenette, a dining table and two chairs, and an upstairs loft.
Above: The kitchenette has a hot plate, a Coleman cooler, and a transom window, offering a view that would have satisfied Henry David Thoreau.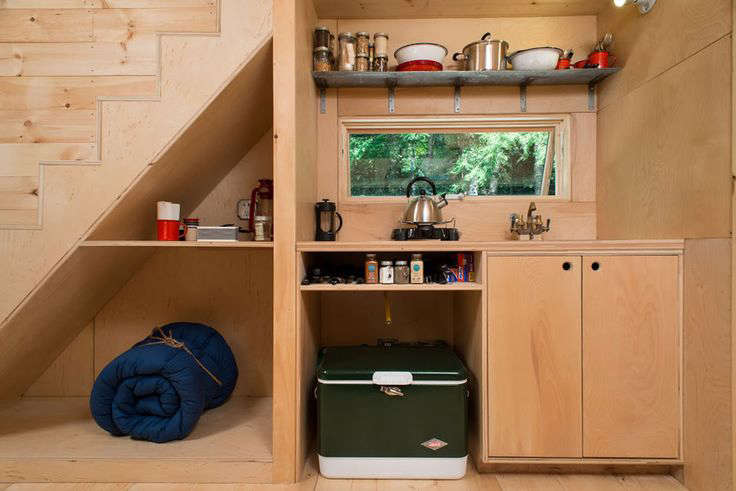 Above: Provisions await. The pantry items "can vary by stay, but you could find any of these food items in stock: coffee, hot chocolate, tea, granola, cereal, rice, soup mix, pasta, pasta sauce, trail mix, beef jerky, a s'mores kit, and more," says Getaway.
Above: Getaway's FAQ has answers to such questions as "Are the toilets weird?" (Answer: no, they're composting toilets); "Can I bring my dog?" (yes); "Is there a minimum age to book?" (18), and "Will I get cell phone reception in the woods?" If you asked that last question, maybe this experiment isn't for you.
Above: Without cell reception, how will you upload this photo to Instagram?
Above: A campfire pit is on site. Please use firewood provided and do not cut down additional trees.
Craving the teeny, tiny life? See: