Charged with rethinking a 10-year-old, water-damaged shoebox apartment on New York's Upper West Side, the team at Workstead transformed it into a model of style and efficiency via extensive millwork installations. The apartment belongs to a London couple who use it as a pied-à-terre that also has to work well as a home office and entertaining space.
"It's a small apartment—680 square feet—with not much room for maneuvering," says project architect, Ryan Mahoney, who notes that rather than dramatically changing the layout, they "reworked the relationships between the rooms." Toward that end, the designers rebuilt walls, introduced oak flooring, camouflaged cooling and heating systems, and furnished the space with a mix of multifunctional pieces by modern and contemporary greats. But the defining feature is Workstead's all-over use of custom cabinetry with a stepped pattern that extends throughout the apartment, from kitchen to living room and bedroom.
Photography by Matthew Williams, courtesy of Workstead.
A concrete slab ceiling prevented the use of recessed lighting in the living area, so Workstead opted for David Chipperfield's DCA Binario Track Lighting by Viabizzuno: "We wanted chrome accents, and we love this fixture because it mixes chrome with brass—and provides a lot of lighting flexibility." Coveting the wooden desk chair? We are, too. It's an industrial 1930s model of unknown provenance.
The companion Penguin Chairs—see A Midcentury Best Seller Is Back—were selected because they're the right height when the table is elevated "but also look appropriate in a living room setting," says Mahoney. "The sofa, too, becomes a seat for casual dining; its somewhat upright posture works well for its double use." The marble cube table is Chen Chen and Kai Williams's Third Eye Vessel Magazine Holder.
Note the space-savig Gaggenau wall oven; an integrated-panel full-size fridge is situated next to it. As for the microwave, blender, and toaster, they're all stored in an appliance garage with a rollout tray to the left of the cooktop, a Wolf design.
The custom window panel, draped on a wood dowel, is the work of New York–based weaver Hiroko Takeda, who, Mahoney explains, made multiple samples to achieve the right amount of transparency. "If you look closely, you'll see the weave changes from top to bottom. The looser weave lets more light in, the tighter provides privacy. This is functional and also creates a horizontal band that works well with our cabinet design."
"The stepping allowed us to integrate the finger pulls, and, at the same time, gave us a unique cascading wood profile," says Mahoney. "The horizontal lines of the cabinetry became an important design element as did the graining of the wood: To create a contrast, we switched the direction of the grain at the top tier of the base cabinetry."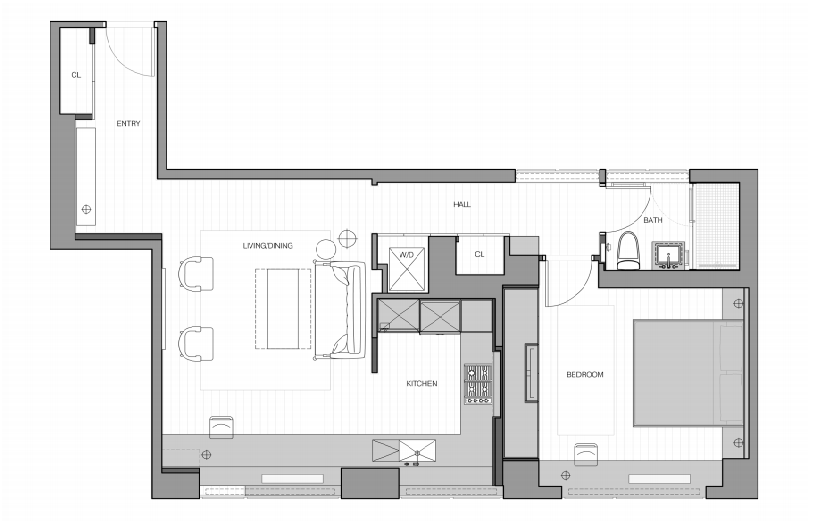 Take a look at three more Workstead projects that incorporate artful storage: