After buying a 1950s house in the small East Hampton hamlet of Amagansett, fashion stylist Tiina Laakkonen and husband Jon Rosen built a compound of barn-like structures designed to pay homage to the land's rural traditions.
Laakkonen, who owns the nearby shop Tiina the Store, grew up in southeastern Finland. Rosen and Laakkonen wanted a summer retreat furnished in a palette of black, white, and indigo that she describes as a "tightly curated version of all things Finnish." (For more of Laakkonen and Rosen's summer house, see Remodelista: A Manual for the Considered Home.)
Blue is a color that predominates both indoors and out, where the water in the swimming pool competes against a riotous sky-colored hedge of hydrangeas for the title "Most Blue."
Photography by Matthew Williams.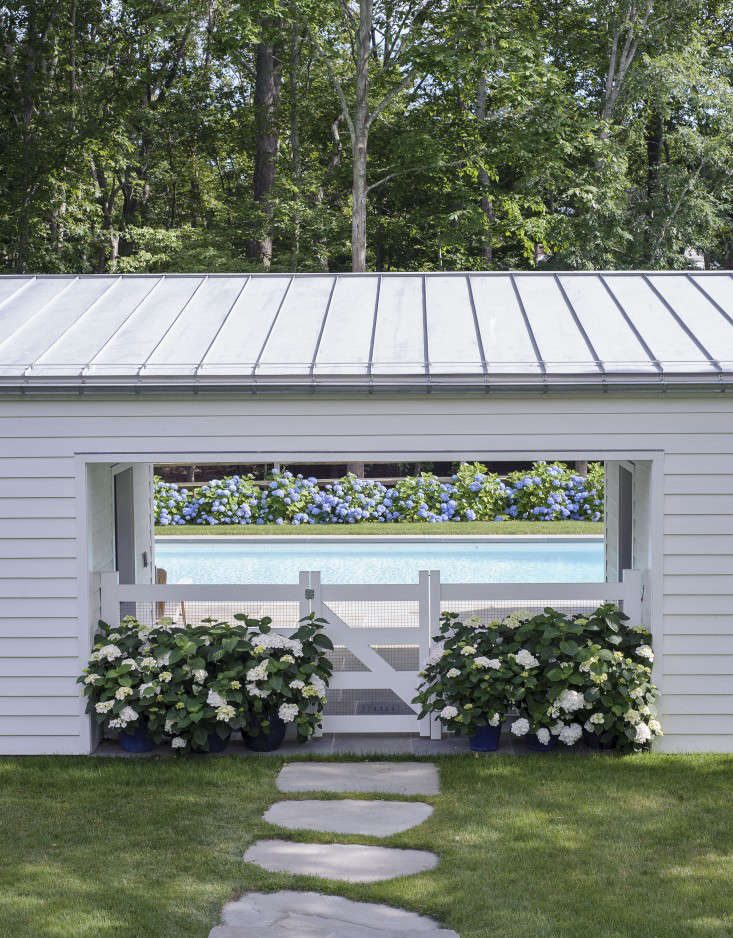 Above: Irregularly shaped stone pavers add a note of informality to undercut the symmetry of the hydrangeas in blue pots that flank the gate of the zinc-roofed pool house.
Above: A rustic split-rail fence encloses the swimming pool.
Above: A swath of green lawn connects the two blue elements in the landsacpe.
Above: A pitch pine, a North American native tree, provides a dramatic focal point in the gently sloped lawn.
Above: Laakkonen and Rosen worked with Bagchee Architects, with a goal of building new structures on the four-acre property without disrupting the surrounding natural scenery or surrounding woodlands.
Above: Indoors are polished concrete floors and sliding doors that open up the living room to the outdoors.
Above: The compound of barn-like structures includes a guest barn, living barn, and master bedroom barn. A permeable gravel driveway softens the effect of the hardscape around the garage.
Above: A ribbon driveway with a mown grass strip curves gently, following the contours of the land. For more on Laakkonen, see Finnish Modernism Comes to the Hamptons on Remodelista. 


N.B.: For more of our favorite Pool of the Week posts, see A 1920s-Era Summer House at Wood's Edge and A Dive Into a Napa Valley Landscape.