Here's a roundup of clever ideas for the underused space under a stairway.
Above: Wood under-stair storage from London-based Michaelis Boyd Associates.
Above: A London mews house uses under-stair storage, via Dwell.
Above: Architect Jerome Buttrick of Buttrick Projects (formerly Buttrick Wong Architects) created a sleek bar in this Palo Alto house.
Above: A bar by architect David Sarti makes use of a creative under-stair storage solution, via Dwell.
Above: Vertical shelves provide extra storage opportunities for unwieldy items like oversize books and framed prints. (N.B. For more book and toy storage ideas, see these unexpected space solutions.)
Above: London-based Domane interior design group tucked appliances under the staircase in this flat.
Above: A traditional built-in under-stair storage closet, via Living Etc.
Above: A space for pet bowls and leash; via Indenfor.
Above: Vitsoe shelving system, via Flickr.
Above: Stockholm architects Sandell Sandberg built a trio of geometrically precise under-stair storage closets.
Above: A salvaged door adds character to this all-white space spotted on Marie Claire Maison.
Above: Storage opportunities abound under this stairway from Splyce. (N.B. For more storage solutions, see "10 Favorites: Indoor Bike Storage.")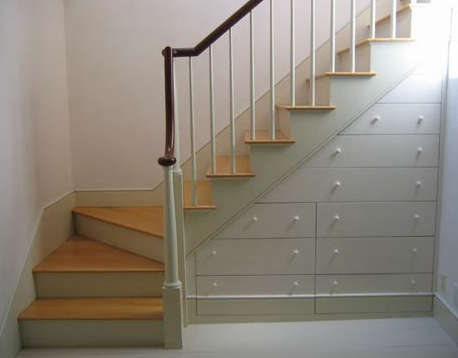 Above: A bank of Shaker-inspired drawers from Flickr.Above: A staircase by Treviso, Italy–based MN*LS creative consultancy. (N.B. Want more book and magazine storage ideas? See "5 Favorites: Bookshelves for Small Space Living.")
Above: Open and closed under-stair storage, via Lake Flato Architects.
Above: A full bath tucked under a stairwell.
Above: Clever storage under the stairs; via Iremonya.