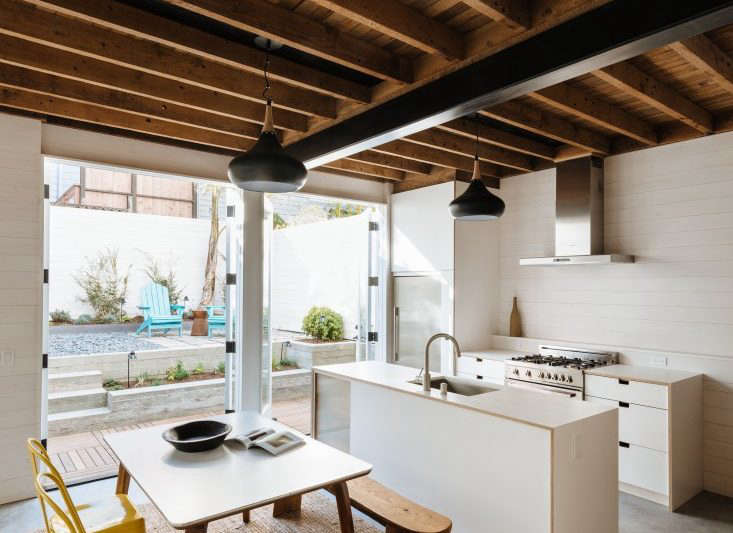 Contractor Aaron Gordon bought the modest cottage in SF's Bernal Heights with his own family in mind. But when he approached Red Dot Studio architect Karen Curtiss to modernize it, he had decided to overhaul the house for resale and came to her with a mandate: "I was asked to transform the structure from one bedroom to three without expanding the building's envelope," says Curtiss. "It was a dream project."
Photography by Joe Fletcher via Red Dot Studio.
On the exterior, she introduced new windows (ornamented on the top story with panels of succulents she dubbed "succulintels"), and built a side entry and garage door of western red cedar. Other interesting details include a new concrete walkway and drive inset with front and side gardens. That's a rain chain hanging over a collection barrel–learn about rain chains on Gardenista. All plantings came from The Succulence in Bernal Heights.
The team at Aaron Gordon Construction (Chad Greensberg served as foreman) worked on the project over a two-year period, slotting it in between other jobs whenever they could. Gordon, Curtiss says, "gave me carte blanche to design the space and to showcase quality craftsmanship." Green building was also a priority: The remodel is Build It Green–certified and beats California's sustainability requirements by over 50 percent.
To echo the house's wood siding, the interior walls and second-floor ceiling are newly paneled in knotty pine and finished with an undisclosed white paint to allow the grain to show through. "It was a labor of love to get the color right and not too pink" says Curtiss, who chronicled the whole remodel process on Red Dot Studio's journal.
"The walls will run right up to the skylight giving the light a surface to reflect on," writes Curtiss in her construction notes. "One benefit of a small house is we are allowed to have a skylight at the property line, since we're under 1,000 square feet per floor. This will get us a pool of light right at the stair landing and a feeling of height where the roof would otherwise come down a bit low."
Above: Vaulted ceilings and new windows make the guest bedrooms feel much bigger than they actually are. How big exactly? " Divide 17 feet, 1 inch by two and subtract a wall thickness," says Curtiss.
Before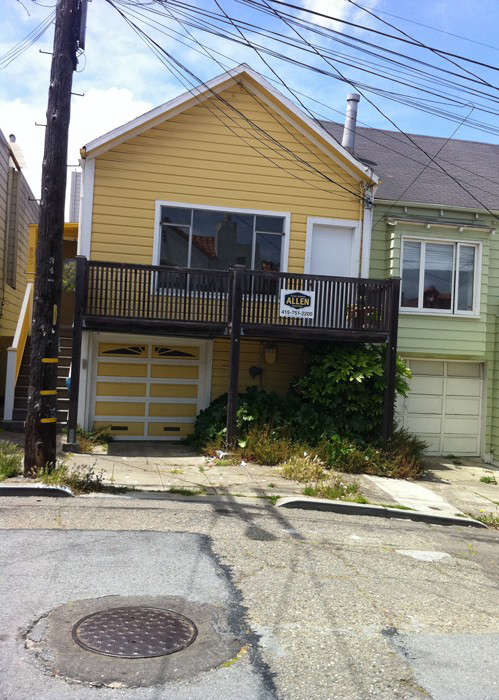 N.B.: This post is an update; it was first published October 2015.
Looking to maximize space? Here are more compact design ideas:
You need to login or register to view and manage your bookmarks.