On a quiet mews in Dublin, built-in garages face the street on all the carriage houses. Except for one. TAKA Architects converted a single-family house's parking spots into indoor living space, creating a sunny kitchen–and a front-to-back view through the house to the garden:
Photography via TAKA.
Above: The single-family house is on a corner lot. With parking available on the side street, the clients wanted to put the unused garage to use as a kitchen.
Above: To replace the rolling garage doors, TAKA designed a large grid window that looks like a folded steel screen, with angled panels to create privacy and a window box for ferns.
Above: From inside, the ferns in the window box add privacy without blocking sunlight.
Above: Light from the new front window brightens the house from front to back.
Above: The back of the house opens onto a backyard and views of neighbors' gardens.
Above: A picture window and window seat replaced two sliding doors, drawing the eye upward to the trees.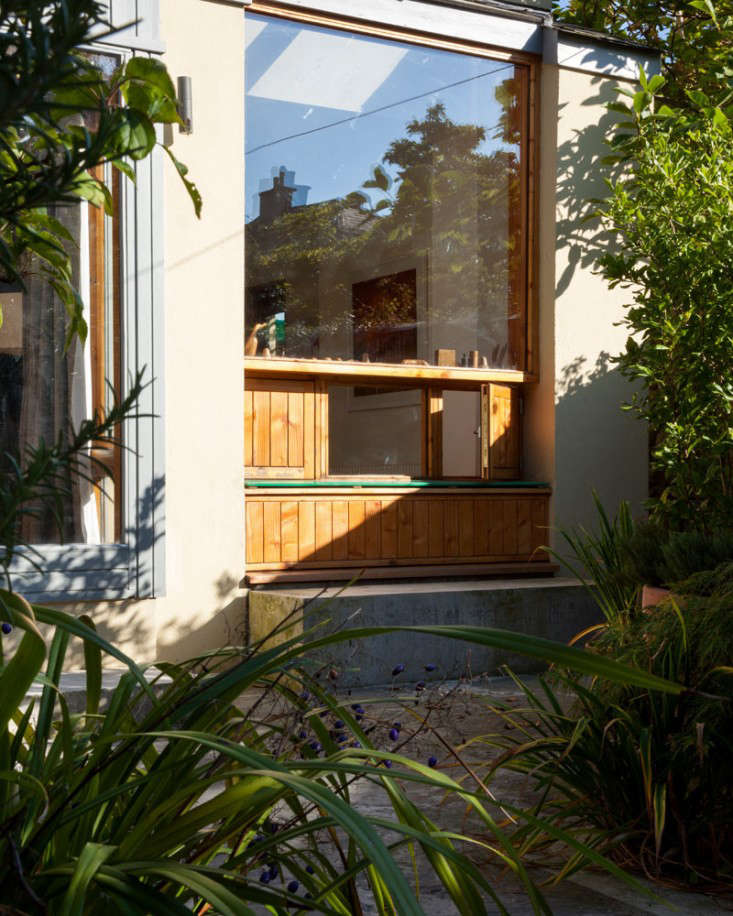 Above: A pair of shutters open onto a ledge where the owners scatter bird seed.
Above: A new garden shed houses the washer and dryer. 
Above: The shed's mirrored surface reflects the garden and intensifies the feeling of greenery.
For more garage transformations, see: