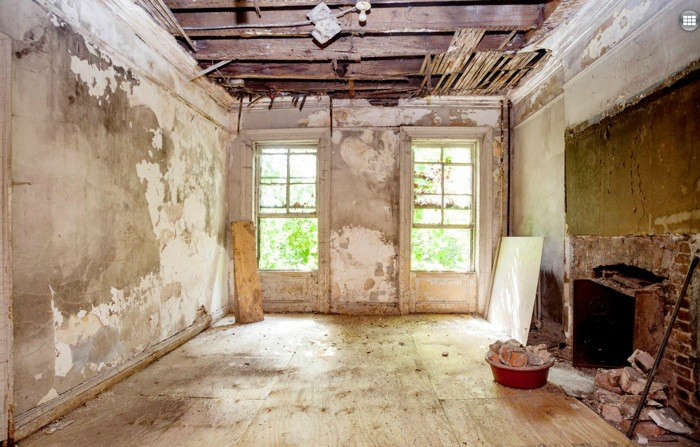 Looking to buy a home in the city? It's often clear when a place is all wrong. But what about that hazy middle ground, when a listing seems to have potential, the price is within striking distance, and you're prepared to do some remodeling?
There are crucial if not-so-obvious details to take into consideration, says Elizabeth Roberts of Ensemble Architecture, DPC in New York City. Here are her top five deal-breakers. 
1. Brick wall views. 
Exposure is extremely important for so many reasons: Does the house get enough light? Do the rooms feel airy or closed off? When you're purchasing a house (versus building a structure from the ground up), existing factors that affect exposure, such as the skyscraper next door, are often something architects and designers can't do anything about.
The best exposure in North America is south-facing, and is especially important in cold climates. Personally, if a house doesn't get enough natural light, I find myself wanting to leave and get outside all the time.
Above: A less-than-ideal lookout. Photograph via Sheila's Wanderings.
2. Low ceilings.
Grand spaces can't be made out of foxholes. True, ceilings can sometimes be raised–on several projects, we've removed ceilings altogether to expose joists and create some architectural interest, and, yes, height. But it's complicated: You have to first look into city codes, and if you have a neighbor above you, in NYC your ceiling will need to provide a fire separation between the lower and upper unit, and its wooden structure usually can't be exposed.  Also, if you're on the top level of a building, it's not legal to expose the roof structure. Additionally, the sheetrock and insulation between joists help prevent sound transmission between neighbors (or your own kids in the room above) and also keep out the cold. All of which is why it's very nice to begin with soaring ceilings.
Above: In a Brooklyn townhouse with a low-ceilinged garden-level kitchen, Roberts gained height by exposing the kitchen's rustic rafters. Tour the project in Indoor/Outdoor Living, Brooklyn Style and Steal This Look: The Ultimate Chef's Kitchen. Photograph by Dustin Aksland.
3. Lack of greenery.
I'm talking about the building's surroundings, and yes, this is true even in an urban setting. I focus on street-front trees and look for mature specimens in particular. Leafy branches lend a lot to a neighborhood: They can mask eyesores and create good privacy in a congested environment. Blocks without trees feel pretty hard and exposed.
Above: A tree with a shady canopy grows in front of a brownstone on New York's Upper West Side. Read about O'Neill Rose Architects' rebuilding of the townhouse–that stoop, new–in A Brownstone for the 21st Century.
4. No sign of a past life. 
It's nice to have some historic details, such as doors and moldings, to contrast with new additions and transformations. Inserting historic detail into a building that is clearly newer than the era the client is hoping for just doesn't work. But re-creating historic detail doesn't have to be expensive or complicated; adding to what's already there is often possible.
As for white boxes devoid of detail, I think the most successful treatment of these spaces is to make them modern and minimalist. To me, it's important that the exterior of the building have some influence on the interior, so if you're working in a standard New York City high-rise, I would not recommend filling the apartment with prewar-style plaster detailing.
Above: Before and After views of the Chaplin Townhouse, a 19th-century Brooklyn dwelling that had much of its original detailing covered or stripped. In the remodel, Roberts revealed pine floors under the linoleum and highlighted the entry and stair rail in black.
5. Bad neighbors.
Bad can mean a lot of things: Noisy is the most obvious. It would be so nice if we could test-drive apartments by camping out in them for a night or two, but short of that, it's important to close the door and listen. And to visit at different times of day and night. My firm has clients who were assured that the extremely expensive loft they were purchasing was sound tight, but after it was theirs, they came by one day and could hear the neighbor practicing on a keyboard loud and clear.
Development plans for surrounding properties are also worth sussing out. Check with your local building department–many larger cities have websites where you can look up projects that are pending. This is a good way to find out if your neighbor is hoping to put up a big addition abutting your backyard.
Lastly, oftentimes there are problematic neighbors who are well-known to the community. Why is the seller selling? Ask around before you close the deal–and while you're waiting to hear, keep hunting.
Above: A Noho loft for a musician by Studio MDA.
Take a look at some properties, including Roberts's own brownstone, that passed muster and received the Elizabeth Roberts Design/Ensemble Architecture treatment: