In London where skies are often gray, a pink front door is a common pick-me-up. We've rounded up seven of our favorites–from sweet candy pinks to shocking shades you last saw in your grandma's lipstick drawer. Here's how to get the look and add curb appeal with your own dash of pink:
Candy Striper
Above: Sweet pink and white play off each other in London, where shop owner Karine Kong of Bodie and Fou enlivens a facade with a pink front door and a Seussian olive tree topiary in a pot. Photograph via Milk Magazine.
Above: For a similar hydrangea pink, consider Benjamin Moore's Countryside Pink. The color also is a favorite of our London editor Christine Hanway, who spends summers in Connecticut and used Countryside Pink on her porch chairs. For more, see A Scandal in New England.
Seasonal Splurge
Above: The front door on a Notting Hill townhouse complements the color or a flowering tree in spring–and serves as a year-round reminder that the blossoms will return. Photograph via Stefanie.

Above: For a similar vibrant pink with a black undertone, consider Benjamin Moore Peony; $6.99 for a 16-ounce sample pot.
Run for the Roses
Above: In Islington, a pink front door matches the climbing roses on the fence and facade. Photograph via Spongeville.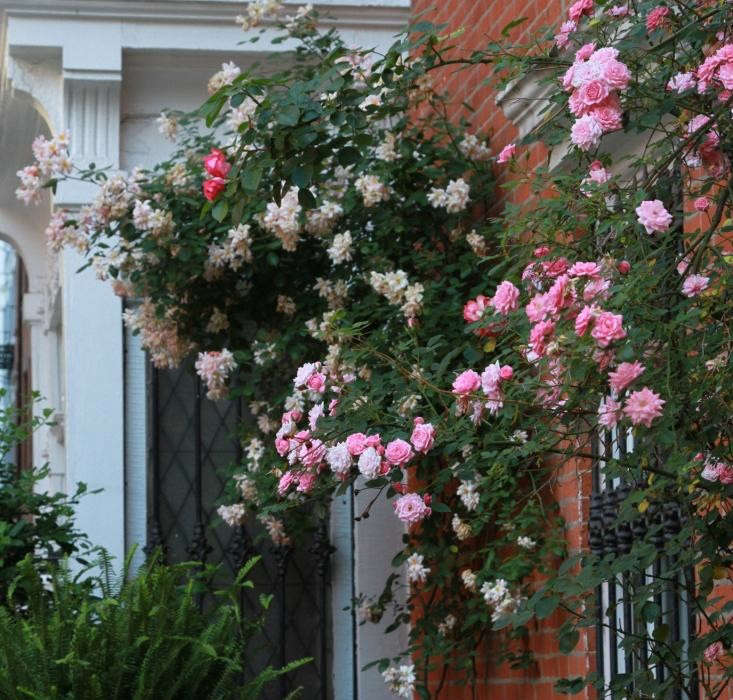 Above: To coordinate a rose-colored paint with bloom color, see our post 7 Best Climbing Roses to choose a flower.
Side by Side
Above: Mix-and-match paint colors to play off one another if you have side-by-side doors. Photograph via Felicity Williams.
Above: For a peachy pink that works well with brown and earthy beiges, consider Benjamin Moore Coral Pink; $6.99 for a 16-ounce sample pot.
Black and White Booster
Above: Pink door, black-and-white tile. Photography via A. Crew Diary.
Black and white are opposite colors that when used together form a neutral backdrop for a vivid hue.
Above: Black and white checkerboard tile patterns dating from the Victorian era are a common sight in London. For more ideas, see Curb Appeal: Victorian Black and White Tile.
Pink and Purple
Above: Pink front door, purple wisteria vine in London. Photograph via Melinda Gleghorn.
Above: For a bright pink with purple undertones, consider Valspar Paints' Old Flame. A 4-ounce sample pot is $2.25 from My Perfect Color.
Above: Before you plant a wisteria vine, know what you're in for: Wisteria, A Dangerous Beauty.
With a Window Box
Above: Deep pink flowers in a window box complement a lighter pink paint on a front door.
Above: Still searching for the perfect pink?  See The 10 Best Pink Paints on Remodelista.
For more pink inspiration, see:
You need to login or register to view and manage your bookmarks.