When we first met Paula Greif back in 2012, she had set out to make every utensil in her Brooklyn kitchen herself out of clay: See The Handmade Kitchen. (We date our infatuation with small-batch pottery to that post–and Paula's work remains the standard bearer.) Since then, the former graphic designer and director of music videos and commercials has devoted herself full time to her ceramics, and set a new goal: To establish her own all-in-one studio, home, and retail shop. After a two-year budget remodel of an impossibly skinny three-story structure in Hudson, NY, she has just opened for business.
Photography by Paula Greif for Remodelista.
The Shop
Above: Located on Warren Street, Hudson's shopping hub, Paula's new quarters are a mere 10 feet wide (nine feet on the inside) and "must have been built as an alley infill," she says. The building, likely a commercial space to begin with, was used as a house in recent years. Paula gave it a gut renovation, including introducing a storefront and painting the exterior black (it's Benjamin Moore Black Tar).
Above: Paula worked on the project with her friend Stephen Shadley, Diane Keaton's longtime interior designer, who happens to be building his own place across the river. Starting on the ground floor, which houses the shop and studio in the back, Paula had every room paneled with pre-primed horizontal poplar Trim Boards for a shiplap effect: "This was my splurge. It makes the place feel like a treehouse in Scandinavia, or a glamorous trailer."
Above L: Ceramic serving utensils–which look something like pieces from a children's book illustration brought to life and are fully functional (even dishwasher safe)–are displayed above a chair made from an old headboard. Above R: A beaker and plate.
Paula works in stoneware, porcelain, and terracotta, and uses a range of techniques: "hand building, slab, wheel, pinched." Most of her pieces are one- or few-of-a-kind. Her new shop is the best source, and they're also available online at Paula Greif Ceramics and at Oroboro in Brooklyn, but tend to sell out fast (Paula sends alerts to subscribers every few months when she replenishes her site.) A Spotted Pitcher, similar to the beaker, is $210; an indigo-dotted Peacock Platter is $285.
Above: Paula's work and her new setup are inspired by celebrated ceramic artist Lucie Rie, who fled Nazi Vienna and had her own live/work studio in a mews house in London from 1939 to 1995. A longstanding collector, Paula furnished upstairs and down with the best of her antiques holdings. 
Above: Paula's wares are displayed on simple wooden box shelves.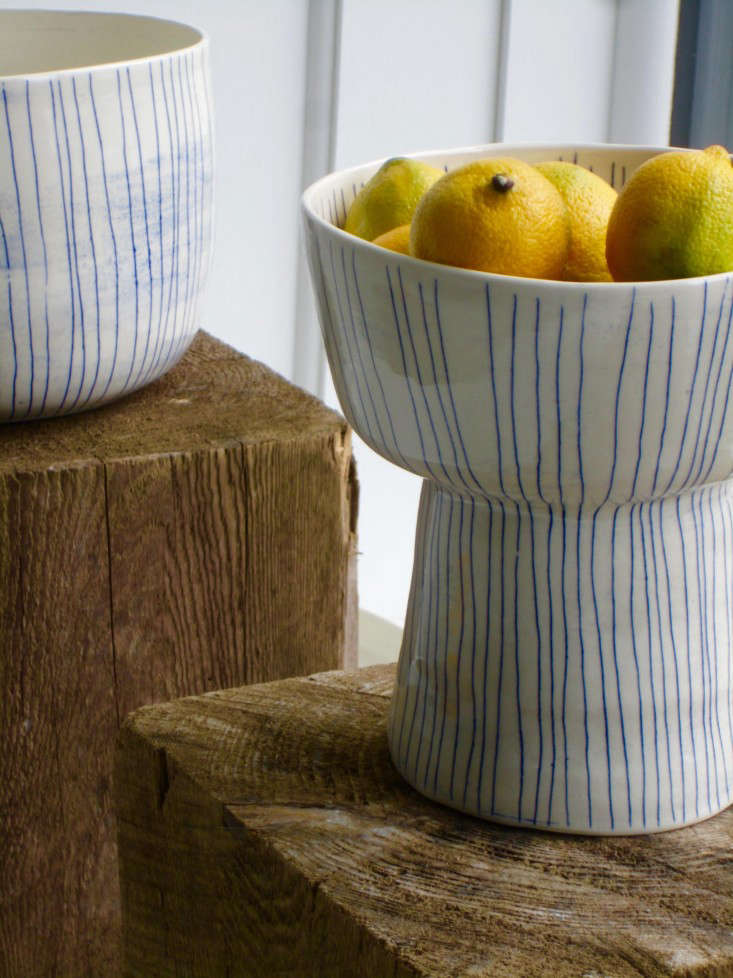 Above: A porcelain bowl and compote with hand-drawn lines. Similar Striped Nesting Bowls are $300 for a pair, and a 7.7-inch-tall Footed Bowl is $295.
Above: More from Paula's blue-and-white collection. Her signature cat dishes, she says, "started as a funny going-away-to-college gift for my kid, Anna–we're cat people." See terracotta versions of the Cats in her online shop.
The Living Quarters
Above: The interior narrows from 600 square feet downstairs to 400 square feet on the second floor, home to the living room and kitchen.
Paula's vintage Knole settee, a long-ago purchase, is "in its fourth life, last slipcovered in white canvas and now upholstered in yellow linen." The floors throughout are painted Benjamin Moore Decorator's White in a gloss.
Above: The room doubles as guest quarters thanks to this pair of 1940s chairs that each convert into a twin bed. Paula bought them from her next-door neighbor, antiques dealer Vincent Mulford. The Indian block-printed pillows are from Layla in Brooklyn. The New Guinea wall hanging and many other of Paula's best finds came from late-great downtown NYC shop Joel Mathiesen Antiques.
Above:  I did everything at the lowest cost possible," says Paula, who credits her builder Glenn Young of Catskill, NY, with "always having the right solution." In the kitchen that involved coming up with an affordable combination of custom cabinetry with white Formica counters on plywood. Paula looked for white appliances, and paired an Ikea built-in range (a since discontinued model) with a Whirlpool cooktop and a 24-inch-deep Summit refrigerator ("the cheapest counter depth you can find"), both special ordered for her by her local Home Depot in Catskill. Paula sprang for a Bosch dishwasher and vent–"worth it for their soundlessness."
The kitchen opens to a newly added back porch that makes the narrow space feel bigger. The yellow floor mat is from Ikea and the ladderback chair is a Brooklyn street find. 
Above: Paula's Grohe Minta Pull-Out Spray Faucet came from Faucet Direct–"I was hesitant to buy stuff online but was blown away by the service; I had to exchange things and there were no questions asked and shipping was free." The aluminum cabinet pulls are Ikea's Blankett design ($3.99 for two)–"not bad knockoffs of Sagatsune."
Above: The paneling extends to the 300-square-foot top floor, devoted to the master bedroom and bath. The soaking tub is the Wyndam Collection's 5.58-Foot Laura, another Home Depot special order ("They, too, were great to work with, and we got a contractor discount"). The sink is a Kingston Brass Sierra Square with a Grohe BauLoup Faucet in Starlight Chrome, both from Faucet Direct.
Above: In Paula's tranquil bedroom, a bench from the Essex Street Market in NYC holds one of her terracotta vases. The bed has Ikea white linens topped with a Turkish carpet from Kea Carpets of Hudson, NY.
Above: The shop is at 419 1/2 Warren Street, sandwiched between Vincent Mulford Antiques and Old Hudson Market, and is open Fridays, Saturdays, and Sundays–"unless I'm off on a family or friend festivity," writes Paula on her site.
"What I love about living here is that there's so much talent and vision on all sides," she says. "Hudson has an amazing history and a complicated and diverse population. A big Bangladeshi community came in the 1980s, and so did the antiques dealers. More recently, the artists and young farmers and makers have moved in. I'm very at home here."
Where Paula goes, we follow. Take a look at her previous Brooklyn apartment and peruse more of her ceramics.