Massachusetts-based landscape architect Matthew Cunningham grew up in Maine. So when prospective clients contacted him about designing a garden for their newly built summer house in Lamoine, Maine (about a three-hours' drive north of Portland, along the coast), he understood the challenges: extreme temperatures, salt air, fog, and rampant deer and other wildlife to wreak havoc on a garden the instant you turn your back.
The homeowners, who live in Texas, planned to spend half the year in Dallas and half in Maine, where they had ties. "She grew up around the area, and after they found the land, they built the house from scratch and did all the detailing and the interiors themselves," Cunningham says. "It was easy for them, from Texas, to pick furnishings that would work well. But it's almost impossible to live in Texas and pick plants that will be adaptive to Maine."
The first time Cunningham saw the 1.5-acre property the homeowners named Clamshell Alley, it was a blank canvas—with potential for both sun and shade gardens. "It's a beautiful waterfront and it's so private that your neighbors are literally pine trees," he says. "The homeowners wanted to live lightly on the land, and from the moment I stepped on the site I had a vision of what needed to happen."
The garden he designed is an ode to Maine: colorful and tough, with perennials that stand up to all kinds of weather and varmints. Let's take a closer look.
Photography by Matthew Cunningham.
Above: The house faces south and overlooks the water, requiring the garden to stand up to very extreme sun- and salt-baked conditions.
"The property is carpeted in really thick fog almost every morning in summer, except for maybe a four-to-six-week window. And the fog is really laden with salt," says Cunningham. "So I use a certain type of plant palette that can really thrive: a combination of native woodland plants and meadow plants, things that can take a high salt content."
Above: Cunningham's planting scheme for a garden on the Maine coast includes hardy perennials such as catmint, salvia, Russian sage, lilac, peony, and lady's mantle. "Those plants can handle salt air, and they're low maintenance. If you cut them back once a year, they're happy," he says.
Above: The clients wanted a sustainable garden that doesn't require an irrigation system. "For a garden like this there has to be someone's eye on it while it gets established—it needs to be spot-watered for a season or two," says Cunningham. "Then the perennials have very deep roots and can fend for themselves in a drought."
Above: The perennials Cunningham chose—including Russian sage, salvias, and artemisia—do well in a wide range of climates. "My mother-in-law in the high desert of Utah has similar plants and they perform in the same way there as they do in New England," says Cunningham. "Those silvery leafed plants can take extreme temperatures."
Above: The clients have a beloved French bulldog—"an important part of their life, so the garden had to be pet-durable too," says Cunningham. "The dog loves to play Frisbee and fetch."
Above: Cunningham united all the hardscape elements—including a retaining wall, pathways, and a perimeter French drain—by using the same stone everywhere. "All of the hardscaping is reclaimed granite and fieldstone and we didn't want cut stone—it's all irregular in shape," he says. "It needed to have a loose, barefoot quality and feel very authentic to the Down East Maine region."
Above: The house has no gutters or downspouts so Cunningham designed protection along the perimeter; a drip strip of earth-toned river stones prevents soil from back-splashing onto the facade.
Above: Cunningham spaced walking pavers with a wide joint of lawn in between.
Above: Irregular in shape, a fire pit patio is made of big slabs of reclaimed granite embedded in the lawn. From a center slab, the rest pinwheel outward. "We toyed with the idea of setting a simple fire bowl in the lawn but the reality is that when you need to mow, you would have to move chairs around—it  becomes whole event to mow the lawn," says Cunningham.
Above: "With a view like this, you don't have to do hardly anything to embellish it," says Cunningham, who planted clumps of pink and white Echinacea for an informal look.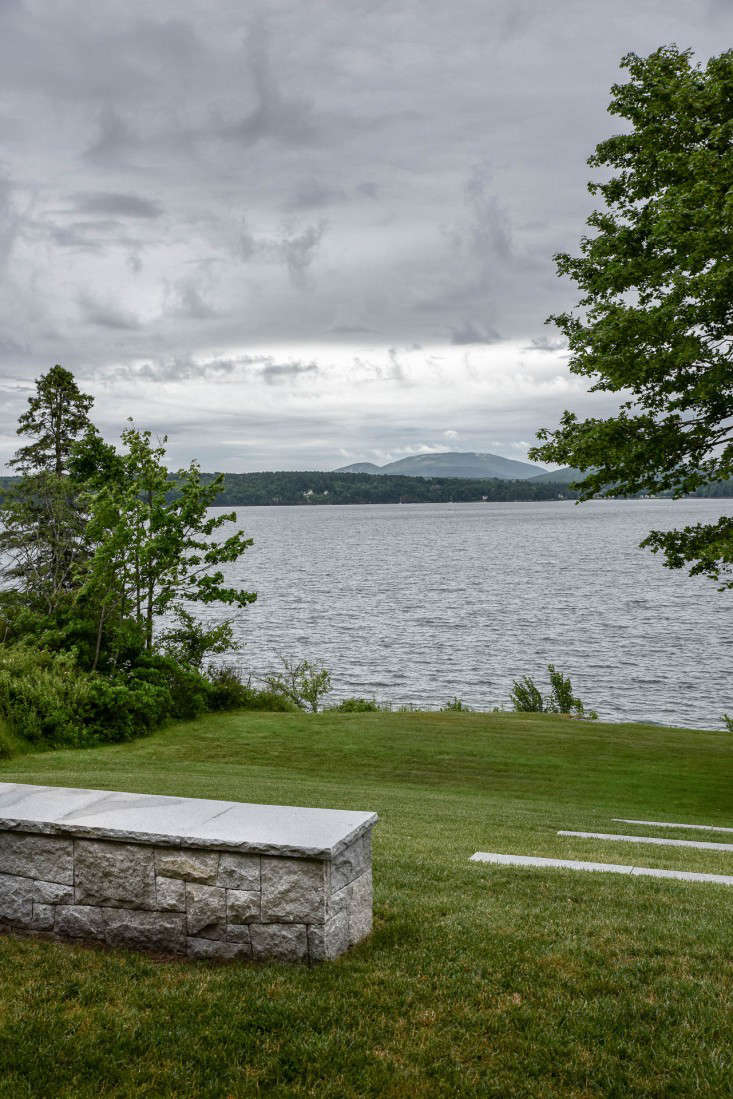 Above: A granite wall "floats" in the lawn, providing overflow seating for guests at the clients' frequent lobster feeds and clam bakes.
Above: The house and garage are connected by a covered breezeway with a simple wooden platform.
Above: On the garage, rolling shutters protect against the weather.
Above: At the side of the garage, a path is edged by hay-scented fern—"my absolute favorite," says Cunningham—and leads to the firewood. Says Cunningham: "Hay-scented fern is aggressive, and it's adaptive, a native that can handle sun and shade, moisture, and drought." In the autumn, it turns a rich, buttery yellow, which looks brilliant against the red foliage of interplanted bush blueberries.
Above: Woodpile as art. "We sourced great old granite piers and used them to organize the woodpile," says Cunningham. "I love firewood, I think it's so pretty, and I love seeing utilitarian elements in a garden. Why hide them? Why not make them part of the atmosphere?"
Above: On the north side of the house, a lot of mature maples creates dappled shade. Planted with hay-scented fern are bayberry and low- and high-bush blueberry.
Above: The driveway is paved with crushed clamshells. "The first season the shells have an odor, but afterthe  sun bleaches them, you're left with soft white pulverized shells," says Cunningham. "And they're easy to replenish."
Site Plan
Above: The landscape is oriented toward the water, to take advantage of the views.
For more of Matthew Cunningham's work, see After the Hurricane: The Resurrection of a Wild Garden in Maine.