When Wolfgang Ahlers, Christian Geyr, and André Reitemeyer first began collaborating, they had no idea that they would end up launching a furniture business. It was the late eighties and they were making a living throwing events in abandoned factories and warehouses in Cologne, often making use of leftover industrial furnishings destined for the scrap heap. Seeing the value in these handmade pieces, they hit upon the idea of launching their own business specializing in long-lasting, well-crafted furniture–and in 1990 Noodles, Noodles & Noodles Corp was launched.
The trio's line of tables, benches, beds, and clothes racks use classic early 20th-century design as their inspiration. Our favorite pieces are the steel kitchen units that combine old-world craftsmanship with a modular template. Good news for those interested: They deliver worldwide.
Photography by Davide Aaronson for Noodles, Noodles & Noodles Corp.
Above: The kitchen cabinets are made of steel with pine countertops. They've available in natural steel, or, for an additional cost, a white-enamel finish, shown here. The wood countertops, too, are an extra option. The pine is brushed and oil finished.
Above: A sink installed in the Kuchenschrank Steel Unit; pricing starts at €1,190  ($1,339) for the basic unit without the pine top. The units are narrower than the countertops to allow space for the addition of water pipes, etc. in the rear. Adjustable feet offer a two-centimeter variation in height.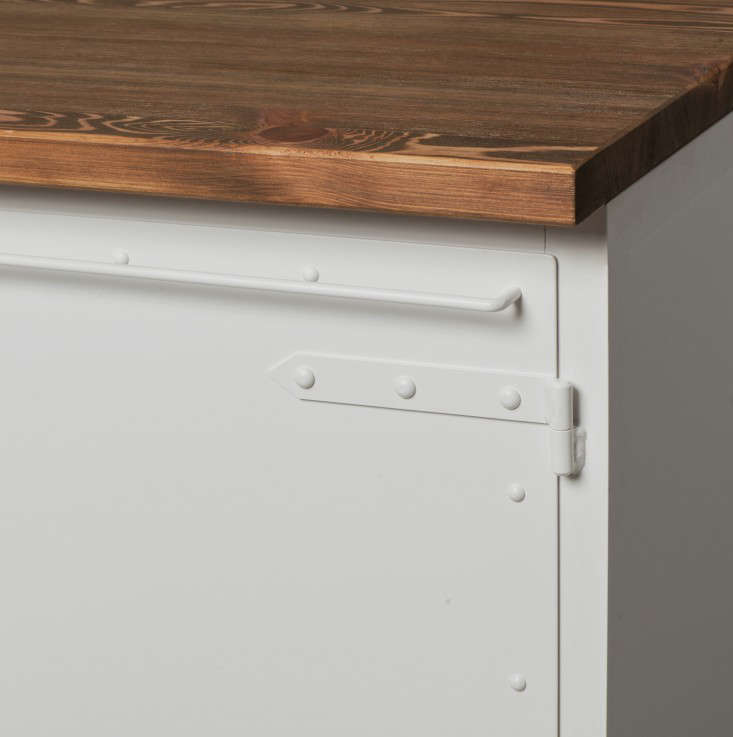 Above: The design was inspired by a tool cabinet. The handle on the front can be used for hanging tea towels.
Above: The Kuchenregal Basic unit starts at €450 ($505.62) and features open shelving. In this version, a stovetop is integrated into the counter. The large wooden crate on the bottom shelf costs €29 ($32.58) and is designed to fit between the wood shelves.
Above: The Wandregal PX shelf is supported by steel brackets and starts at €69 ($77.53). Shelving comes in lengths of 50, 100, and 150 centimeters, and is 20 or 30 centimeters deep
Above: The steel-framed double-door pantry is fitted with three wooden shelves. The Wooden Cabinet starts at €2,090 ($2,348).
Noodles, Noodles & Noodles Corp also offers custom work.
For more kitchen inspiration, read our Expert Advice post on 10 Ways to Achieve a Plain English Kitchen. And take a look at Devol's New Showroom in London.