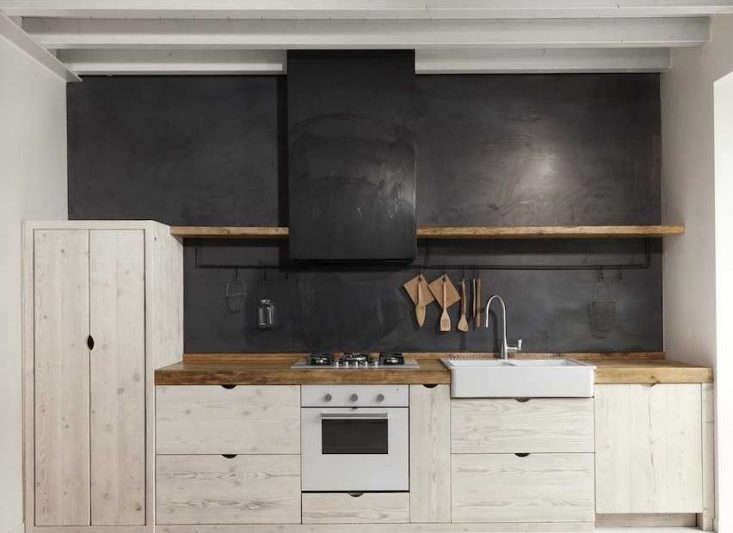 For 20 years now, Italy-based German interior designer and furniture maker Katrin Arens has been finding fresh uses for discarded wood. She's still on the vanguard of the reclaimed movement: "I love reusing wood to make things that will last," she tells us. "I aim for designs that are simple and clean without being cold." Today we're spotlighting a compact kitchen that Arens designed for a young restaurateur couple in Bergamo, in the Italian lakes region, where Arens herself has a second home and workshop. The landscape and architecture of Northern Italy, she says, serves as both her inspiration and her source for castoff materials.
Photography courtesy of Katrin Arens.
Above: Set in an apartment in a newly remodeled early 19th-century house in the center of Bergamo, the kitchen is built largely from salvaged scaffolding wood with a dramatic back wall of iron sheeting that wraps around the range hood. The dishwasher is to the right of the sink and there's a freestanding fridge to the left, out of the photo frame.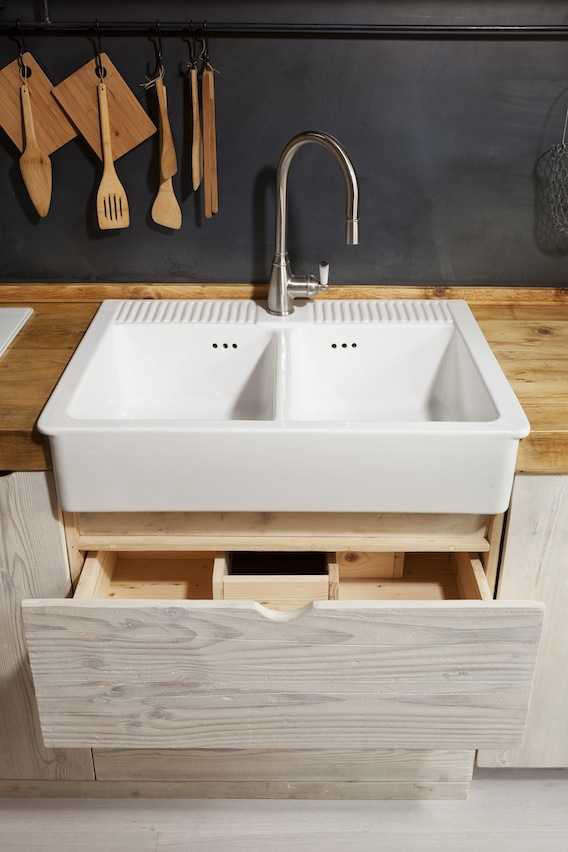 Above: Arens made use of her clients' Ikea sink and faucet from their former home: "Why not reuse something that's nice?" (Note the top drawer, built around the plumbing.) The iron utensil rail was fabricated in Arens's studio.
Above: Arens uses all-wood drawers and cabinets with basic carved openings in most of her designs. As for the various finishes, she explains, "We produce some in our studio using bee's wax and pigments. All are the result of years of experimenting and we keep them secret. The white finish is a pigment that has to be brushed on the wood several times; otherwise it won't last. The wood counters are sealed to waterproof them."
Get the lowdown on wood countertops in Remodeling 101.
Above: In a narrow slot next to the range, three drawers are camouflaged behind a tall front.
Above: "When I started working with old wood, I had to find a way to make repeatable designs that someone could order in different sizes—without losing the unique aspect," says Arens. Plentiful scaffolding wood became a favorite material, and the tall, narrow cupboard with cutout openings is one of her signature pieces.
Above: A cupboard just beyond the kitchen is patterned with a mix of raw and painted panels. See more at Katrin Arens.
Working on your own kitchen? Go to our Kitchen of the Week posts for inspiration and sourcing ideas. The Movable Kitchen from ModNomad Studio is another scrap wood design.
Designer and Hollywood house flipper Amanda Pays builds shelves from scaffolding wood; take a look at her 11 Money-Saving Remodeling Strategies.
N.B.: This post is an update; the original story ran on October 25, 2015.