Late-night talk show hosts, they're saddled with small kitchens just like us. When Seth Meyers and his wife, Alexi Ashe, moved into their West Village apartment, they were required to work with their prewar building's wet/dry restrictions—which meant that the five-by-10-foot "kitchen envelope" had to remain as is.
Fortunately, Alexi, a Special Victims Unit prosecutor, is the sister of interior designer Ariel Ashe of Ashe & Leandro. (Ariel met Seth years ago, when she was an intern in Saturday Night Live's set department and he was a new cast member; he's been turning to her for design help ever since.) Fresh from having redone the Late Night with Seth Meyers behind-the-scenes quarters—and from having revamped a TriBeCa duplex for Naomi Watts and Liev Schreiber—Ariel and creative partner, architect Reinaldo Leandro, were summoned to work on Seth and Alexi's new place. We love the low-key, high-style look that they applied throughout—and especially successfully in that postage-stamp kitchen.
Photography by Fran Parente.
Above: "Seth and Alexi both cook a lot," Ariel told us. "They requested a big sink, a wine fridge, and as much storage as we could fit." The couple, who have been known to compete in grilled cheese cook-offs (and you can catch Seth making salsa with Martha Stewart on his show), also told Ariel that they liked the idea of a French range. She steered them in the direction of a brass-detailed white Lacanche Rully instead of a La Cornue: "It's a little more subtle, it's like La Cornue's younger sister."
Above: Leandro designed the flush cabinets in space-receding white, detailed with Brass Lido Flat Top Knobs and a counter of absolute black honed granite from ABC Stone. "Alexi loves the cleanliness of the white and the warmth of unlacquered brass," says Ariel. "She's very neat."
The subway tiles are Heath's handmade six-by-six-inch Classic Field tiles, and the farmhouse sink is the Clayburn from Waterworks. The dishwasher is camouflaged by a cabinet-panel door and the wine fridge is a Sub-Zero. (There's also a full fridge tucked into a corner and surrounded by a pantry and pot storage.)
Above: A little bit Chex Mix (Seth says his mother's is better than Martha's) and a little bit champagne: The cabinetry is dressed up with a brass Waterworks Henry Gooseneck Faucet in unlacquered brass and a nautical brass Pelham Pendant from Hudson Lighting. A window-like smoky brass mirror custom made by James Devlin Studio enlarges the look of the space, as does the open shelving (stocked with all-white Shell Bisque Tableware from Canvas Home).
Above: The kitchen opens to a dining area with built-in wine storage that Seth and Alexi asked Ashe & Leandro to copy from their former apartment. "I love beer, Scotch, and a little tequila, but right now I'm in the wine chapter of my drinking life," Seth told Bon Appétit.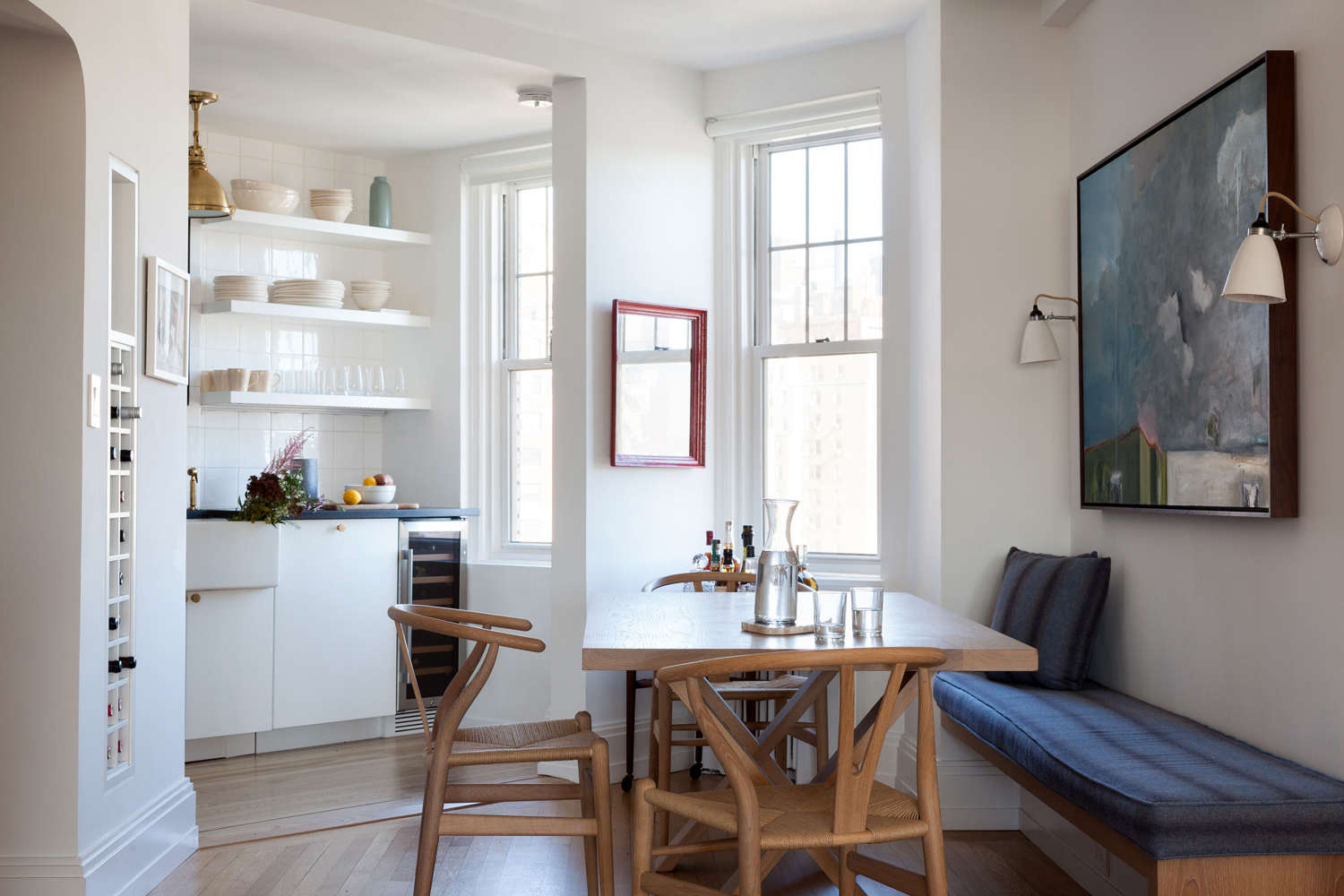 Above: The designers widened the passage between kitchen and dining room as much as was structurally possible and extended the oak floor into the kitchen. To neatly fit the dining table (a custom design by Ashe & Leandro's cabinetmaker, Rob Pluhowski), they paired Wishbone chairs with a space-saving built-in bench.
One of Ariel's favorite elements in the apartment? The painting by John Roman Brown, an LA artist who works outdoors: "We put his paintings in almost all of our projects; he creates the most beautiful skies." The pillow and bench cushion are Lapis Dusk Stripe, a wool blend from Duralee (now discontinued).
Above: Ashe & Leandro's floor plan details the angled setup. Fridge and pantry are tucked into the corner of the elbow near the range. The seating area shares a wall with the master bath.
Before
Above: The kitchen had been much more closed-off from the dining area.

Above: A mishmash of materials—wood cabinets, speckled granite counters, stainless appliances, and vinyl  flooring—made the space feel that much smaller.
Dealing with your own compact kitchen? Take a look at:
N.B.: This post is an update; the original story ran on March 10, 2016.