The galley is one of the most compact and high-functioning kitchen configurations. But too many end up looking like austere cooking factories. Here's a wood-paneled version in London that presents a refreshing urban-rustic alternative to today's chilly designs.
Installed in a five-story Regency townhouse—as part of a remodel in which the kitchen was relocated—the design is from UK kitchen maker deVol. It's part of the company's Sebastian Cox line, which we've been admiring since it made its debut last year: See the first version of the kitchen here.
Above: A steel-framed Crittall window partitions the kitchen from the entry hall.
Above: The cabinets are made of British-grown sustainable woods: Birch plywood frames are fronted by cabinet doors of band-sawed solid beech that's stained (rather than painted) an inky blue-black. The flooring is a maplike confluence of concrete and oak.
Above: The hanging lights were a DIY project: LED Filament Bulbs and Bakelite Bulb Holders are paired with Fabric Lighting Cable, all from Dowsing & Reynolds. The Crittall window echoes the lines of the sash window at the back of the space that fills the room with light.
Above: Cox used oak counters in his prototype; the owners of this kitchen opted to dress up the timber cabinets with honed Carrara marble worktops.
Above: The glazed cabinet is one of the accessories available from the Sebastian Cox collection (sold by deVol as part of a complete kitchen).
Above: The cabinets are detailed with copper pulls and copper-lined finger holes. Note the way the wood grain shows through the dark stain, lending the space great texture. Says Cox: "The whole kitchen is designed to look like it breathes."

Above: The sink, with old-fashioned counter dish drain, is the undermount Kubus design by Franke and the faucet is the Quooker Fusion Square, a combination mixer and boiling water tap.
Above: The five-burner gas stovetop is a Miele KM 2335.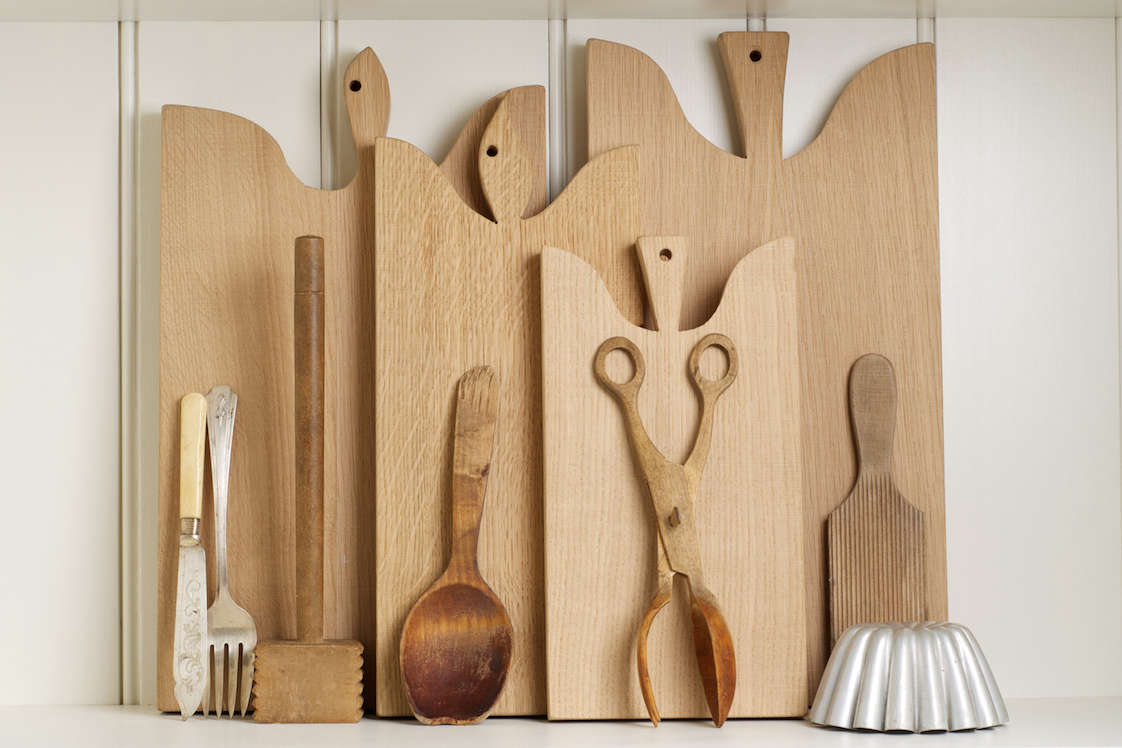 Above: Rough-sawed oak Chopping Boards are one of the accessories deVol sells à la carte. They come in three sizes starting at £35 ($50).
Above: Ovens from Miele's PureLine are tidily integrated into the wall next to the concealed fridge with oxidizing copper pulls.
Above: The space opens to a dining area that, like the kitchen, gracefully straddles the line between down-home and urban.
See more at deVol, and take a look at a Shaker-Inspired deVol Kitchen. Also, visit  Sebastian Cox.
For more wood-accented designs, see 9 Favorites: The New Timber Kitchen. Explore more galley kitchens in Remodeling 101.