Horizontal stripes make things look wider, which is why you don't wear them. But your garden should. A horizontal slat fence will create the same optical illusion outdoors–and make your garden look bigger, too. Here are 11 of our favorites:
Above: Photograph by Pia Ulin via Bangia Agostinho Architecture.
In a Brooklyn garden, designer (and Gardenista contributor) Lindsey Taylor left a cedar fence unstained; it will weather to a soft gray and then be sealed.  "Space between the horizontal slats is good for circulation. "There is a problem with mosquitos in Brooklyn, so we wanted a lot of good air flow and its better for the health of the plants," says Lindsey.
For more, see Before & After: A Modern Townhouse Garden in Brooklyn.
Above: Photograph via Design Within Reach. Neutra house numbers and a pea gravel path. For more, see 5 Favorites: Modern Wooden Gates.
Above: A Stinson Beach, CA entryway by Blasen Landscape Architecture. For more, see A Seaside Garden at the End of a Dirt Road.
Above: In a garden at SHED in Healdsburg, there is space between the slats to make a fenced courtyard feel airier. Photograph by Michelle Slatalla.
Above: To make a small Mill Valley, CA backyard feel more expansive, architect Ken Linsteadt designed a fence using 2-by-2 slats of wood. For more of the garden, see A Mediterranean Garden Inspired by the Classics. Photograph by Nicole Franzen for Gardenista.
Above: Photography by Mimi Giboin.
Widely spaced slats in a tall wood fence shades a deck at the San Francisco home of graphic designer Jennifer Morla (of Morla Design) and her architect husband, Nilus de Matran (of Nilus Designs). For more, see At Home with an SF Design Duo on Remodelista.
Above: A chalkboard is incorporated into the design of a fence by Shades of Green. Photograph courtesy of Shades of Green.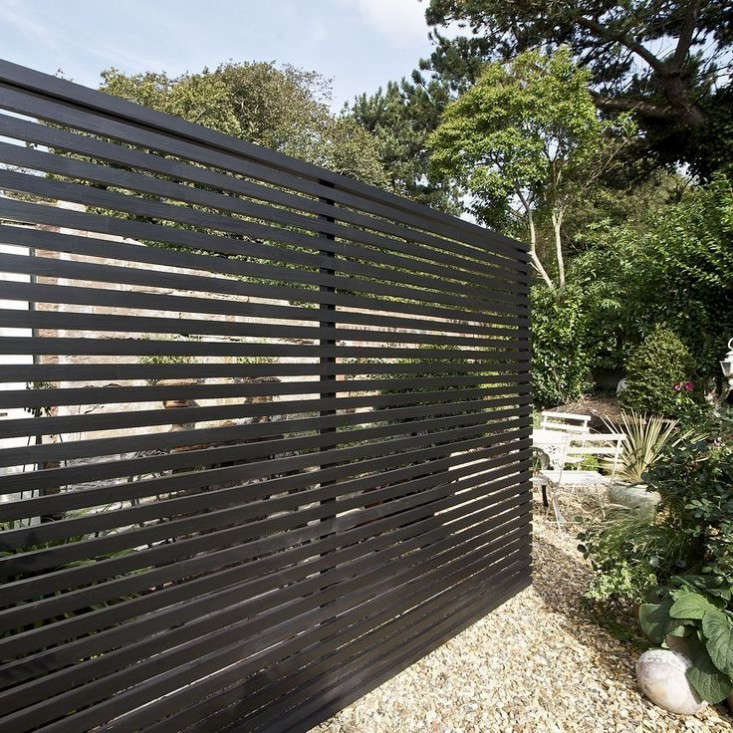 Above: To recreate the slatted look, Silva Timber Products sells Western Red Cedar Slatted Screen Fence Kits;  prices from £168.19 per linear meter. Photograph courtesy of Silva Timber.
Above: Landscape designer Debora Carl installed a black slatted screen to create privacy for a deck in Encinitas, CA. Photograph courtesy of Debora Carl Landscape Design.
Above: In Santa Monica a new outpost of Potted, one of our favorite outdoor shops, is in a fenced outdoor courtyard. "We believe outdoor living is as important as indoor living," says owner Annette Gutierrez, who is partnering with Australia-based design brand Lazybones. For more, see Shopper's Diary: Potted in Santa Monica.
Above: A horizontal fence in a Brooklyn backyard garden by WE Design, a member of the Remodelista Architects and Designers Directory. Photograph courtesy of WE Design.