Simone LeBlanc turned her knack for present-giving into a business: She's Hollywood's go-to source for bespoke wooden boxes filled with thoughtfully packaged gifts. Who better to ask for some advice on holiday wrapping?
As you can imagine, the holiday season is a crazy time of year for Simone and her studio. How does she cope? "During the busiest times especially, we're all about finding balance. Our look is celebratory yet relaxed, festive without being fussy." Here, she shares an easy gift wrapping idea that she says captures her ideal: "It feels earthy but elevated–and the process is to be enjoyed as much as the results."
What you'll need:
Cozy tea blend (for making a dye): Cinnamon sticks, cloves, and black or chai herbal tea bags (with tags removed). You can adjust the ratio of components to be darker or lighter depending on the result you're looking for.
Large pot for brewing tea
Washi paper. This traditional Japanese paper is soft and absorbent; it feels like fabric and holds a texture beautifully. Hiromi Paper is a favorite source.
Large vessel for filling with tea dye bath
Twine as gift tie
Foliage to finish the gift. This can be picked in your backyard or purchased, whatever suits your taste. Just make sure what you choose is not too delicate–you want it to hold up and dry well. Simone is a fan of rosemary, magnolia leaves (their backsides are velvety), seasonal cedar, and berries.
Instructions
Place tea ingredients in a pot of water and bring to a boil.
Give a few stirs to release more of the color. Keep an eye on the water: The longer you let it boil, the darker the colors will become.
Let steep for 15 minutes or so. Adjust the mixture by adding more water (to lighten) or more ingredients (to darken). Cut test strips of washi paper to try out the color.
Strain the contents of your pot.
Transfer the tea dye to a large vessel: You want something roomy and not precious because the dipping process can get a little messy. Also, you don't want the paper to be crowded as it soaks in–overlapping yields splotchy results.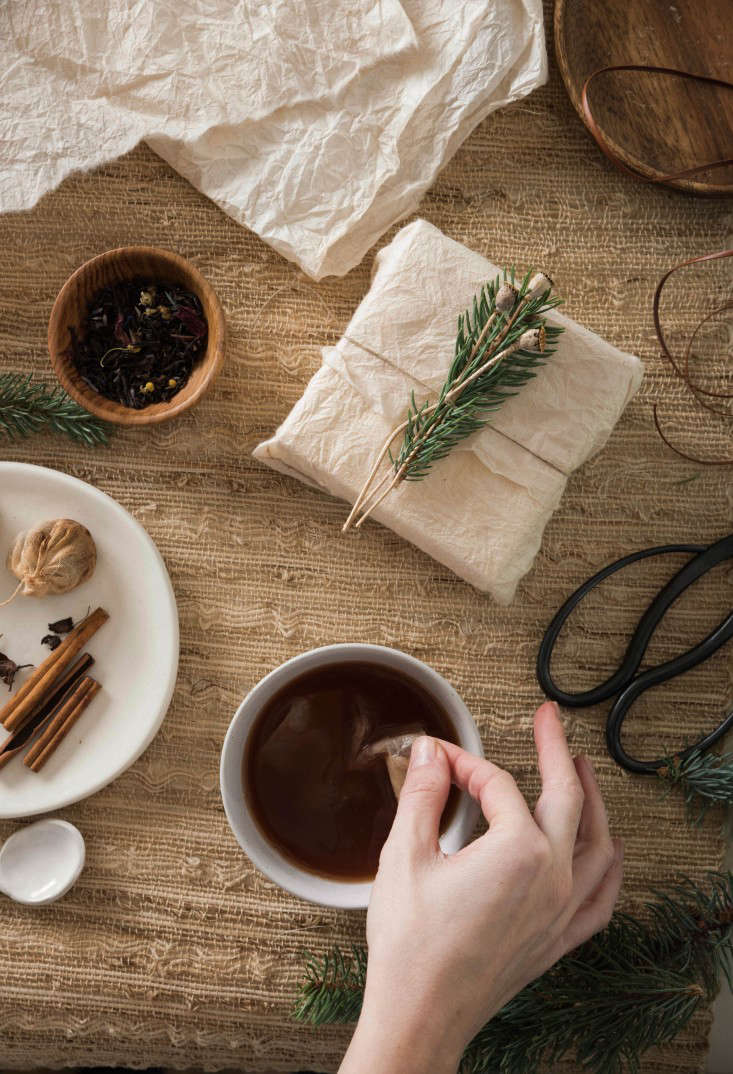 Dip papers into the hot dye bath (the lighter resulting paper, shown above, sat for about one minute; the darker, below, for about 10 minutes). Warning: Do not let the paper sit for much longer than 10 minutes or it may disintegrate.
No need to rinse the steeped paper. Just lay out to dry somewhere with good air flow (outdoors is great).
Once dry, wrap your gifts in the paper. Use double sided or decorative tape to ensure neat edges, or, simply bundle the paper closed with your twine. The paper is somewhat delicate, so don't be concerned about making the wrapping too taut.
Finish with twine and wintery foliage. This part is entirely personal: Add what you love and think looks great.
Peruse this year's gift guides from Remodelista and Gardenista:
N.B.: This post has been updated with new links and prices; it was first published on Remodelista in December 2015.
You need to login or register to view and manage your bookmarks.