Welcome to Your Weekend Project, featuring how-tos and ideas from our archives for an organized and inspired home.
I like to see how other people store their kitchen knives. It's a detail I often zero in on when visiting a new kitchen or looking at photos of kitchens. Are the knives tucked away in a stealth in-drawer block? Or are they out in the open in a traditional countertop block, or suspended from a magnetic strip?
Recently, I spotted a knife storage solution that, after hours of online searching, I realized is entirely bespoke: a leather knife rack mounted to the side of a kitchen island. I had to have one, so I made my own. With a pliable piece of leather, it's a pretty simple thing to create, and you can tailor each loop in the rack to fit your own needs—no advanced knife skills necessary.
Photography by Alexa Hotz for Remodelista.
Materials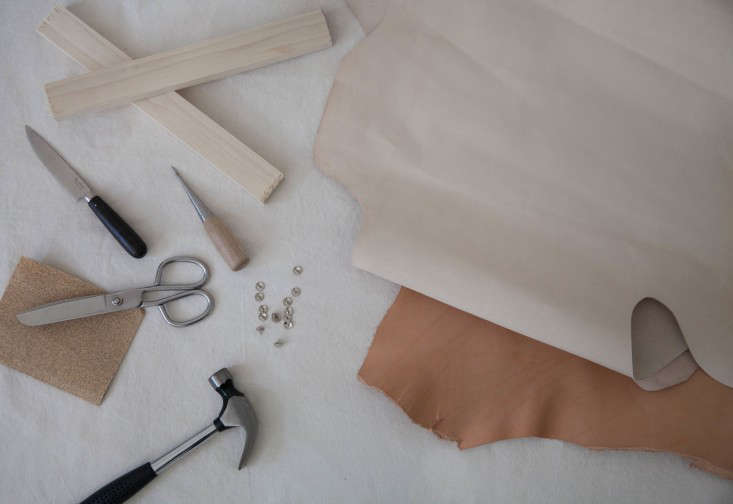 Wood, cut to the desired length. I used a 12-by-2-by-1-inch piece of poplar. Choose a soft wood if you plan to use pushpins.
Leather hide, at least 14 by 7 inches (enough to generously wrap the entire piece of wood)
A handful of pushpins or nails
Sandpaper
Scissors
A hammer
An awl; such as the General Tool 818 Scratch Awl; $4.58 from Amazon
Instructions
Step 1: Flip the leather over so that the inside of the hide faces up. Sand your pieces of wood, place atop the leather, and eyeball how you'll wrap it. Measure, mark a pattern, and then cut to your liking.
Step 2: On each end of the wooden block, trim the leather so that it can be wrapped tightly against the wood. If your leather is on the thinner side, you can wrap the ends of the wood as you would a gift box, folding it over itself. If your leather is a thicker cut, as mine was, you'll want to make L-shaped cutouts so that you don't have unnecessary excess. If you're using soft wood and leather, you can secure each section with a simple pushpin. If the wood is hard and the leather is thick, you'll want to puncture your leather with an awl and use a nail to create a hole before applying a pushpin.
Step 3: Once you've pinned down each end of the wood, fully wrap the block overlapping the leather on the side that won't show (and trimming as necessary). Secure the leather in place with a series of evenly spaced pushpins (I used three).
Step 4: Flip over the block to the display side. To create the knife holder, cut a strip of leather that is about one-inch thick (or adjust as desired; leave extra length so that there's room for error). Pin down one end of the strip in the center of the block about an inch from the end.
Step 5: Push the leather against itself until it makes a loop. Secure the loop in place with a pushpin, and then continue making loops and pinning them down, adjusting each to your liking, until you're an inch from the end. Consider customizing your knife rack to your own set of knives and kitchen tools: I created one large loop to hold my kitchen scissors, and smaller, tighter loops for my knives.
Step 6: To mount the finished rack on the wall, there are a variety of options: You can hang it like a picture frame using a length of wire and pushpins on the back, you can nail the entire piece to the wall, or you can nail two sawtooth hangers on the back and hook them onto the wall (the approach I took).
The Finished Look
Looking for attractive magnetic wood knife racks? Check out 10 Easy Pieces: Wall-Mounted Magnetic Wood Knife Racks. What to do with leftover scraps of leather? Consider DIY: Braided Leather Drawer Pulls. Looking for a place to store garden tools? See 10 Easy Pieces: Wall-Mounted Tool Racks on Gardenista.
N.B.: This post is an update. It originally ran on May 28, 2014.