A small garden in Melbourne suburb Toorak was a blank canvas the first time designers Cameron and Stephanie Paterson of Grounded Gardens saw the site. During a recent remodel, the existing garden had been removed and the eco-conscious client had planned ahead by installing a graywater irrigation system to collect water from the washing machine and showers for use in a new garden.
Starting from scratch, Cameron Paterson designed a front courtyard as a focal point with native plants, shade trees, and a mix of drought tolerant perennials and grasses to create year-round color. Let's take a look behind the fence:
Photography courtesy of Grounded Gardens, who you can follow on Instagram at @groundedgardens.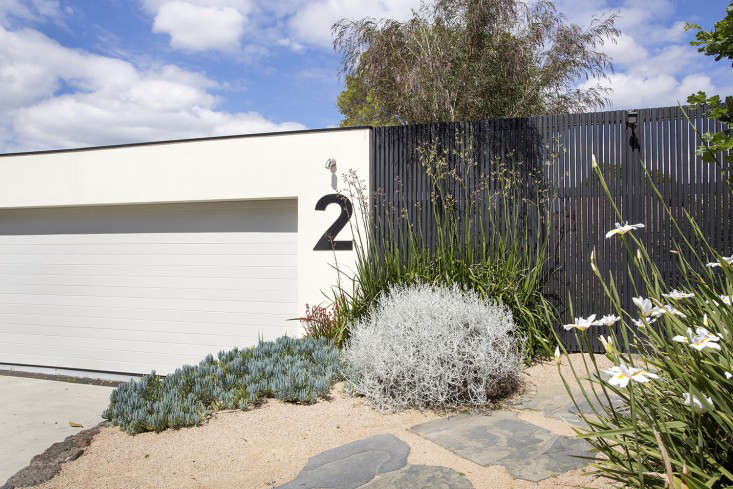 Above: The large house number on the garage is stencil-cut steel. Next to the driveway, a front path set with free-form bluestone pavers is lined by drought tolerant plants including Anigozanthos (commonly known as kangaroo paw), a silver bush of Leucophyta brownii, and Dieties Iridiodies (African iris).
Above: Also planted alongside the front path are Correa Lawrenceana, Acacia Baileyana, Grevillia 'Superb', and Adenanthos Sericeus.
The graywater irrigation system filters waters from the homeowners' showers and washing machine through a sand system and then pumps it into the garden through a drip system.
Above: Inside the front gate, a front courtyard doubles as an outdoor living room. Underfoot on the patio and path (which leads to the front door) are crazy paved slate and crushed granite.
Above: Designer Stephanie Paterson (who also owns The Outdoor Stylist) helped the owners update their outdoor furniture with two Angelucci 20th Century Butterfly Chairs ($410 apiece) and Jardan's Stanley Stool; (for more information and prices, see Jardan).
Growing against the facade of the house is a clump of variegated-leaf Sansevieria trifasciata.
Above: Grounded Gardens designed retaining walls to create raised planting beds along the fence line. Plants include (from L) Liriope Muscari, Acer Palmatum, Ranunculaceae, Limonium perezii, Arthrapodium cirratum, Santolini Chamaecyparissus, and Myoporaceae.
Above: Growing next to the front door is an Acer Palmatum (Japanese maple tree).
Above: In the backyard is a patio with crazy paved slate and an open-air pergola with suspended lighting. Designer Stephanie Paterson sourced the furniture, including a Tio Dining Table ($1,222 from A+R) and Tio Chairs ($325 apiece) from Stockholm-based designer Massproductions.
Plants at the edge of the patio include Phlomis Fruiticosa, Buddleja davidii, Sedum Autumn joy, Euphorbia Mellifera, Olea Europeae Limonium Perezii, and Perovskia Atriplicifolia.
Above: The side of the house is planted with Berberus Vulgaris, Phlomis Fruiticosa, Sedum autumn joy, and Acer Palmatum.
For more of our favorite drought tolerant Australian garden designs, see: