Beyond Tolix: Our new favorite French kitchen stool? The classic Nicolle stool (also called the "whale tail stool"), designed in the 1930s for use in factories and workshops and reissued in 2008. The stools are available in a range of colors and with leather or wood seats. In the US, the stools are available from Home Stories in Brooklyn and Rejuvenation. For more info, go to Chaises Nicolle.
Above: Nicolle counter stools in a Copenhagen kitchen, designed by Natalia Sanchez Echevarria of Spatial Code.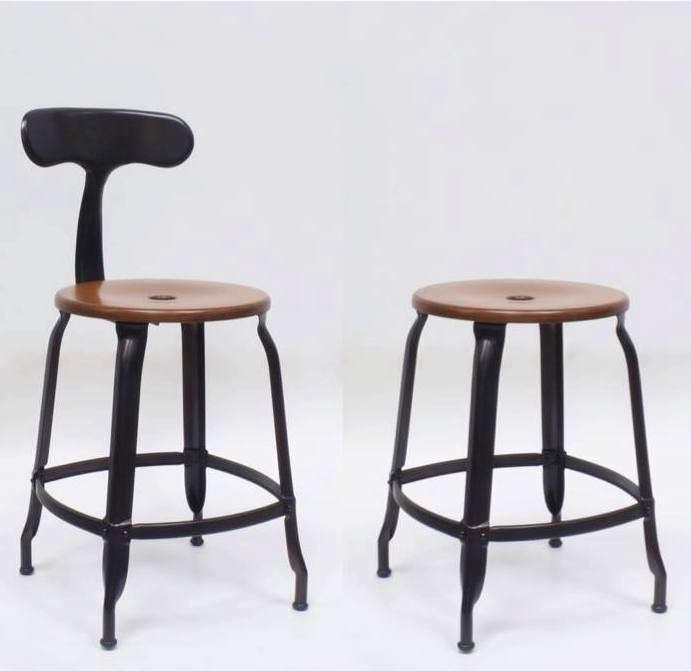 Above: The stools are available with wood seats (the backless Workshop Stools are from Merci in Paris). Rejuvenation is currently offering the Nicolle Bar Stool in three colors (cobalt blue, forest green, and glossy red) for $239 (down from $399).
Above: A 30-inch-high Authentic 1933 Nicolle Side Chair is $345 from Sundance.
Above: The Authentic 1933 Nicolle Leather Seat Pad is $45 from Sundance.
Above: The Nicolle Stool is available in three heights and five colors (black, gray, white, red, and gunmetal) from Folklore in London. The white enamel Nicolle Stool is also available at Conran.