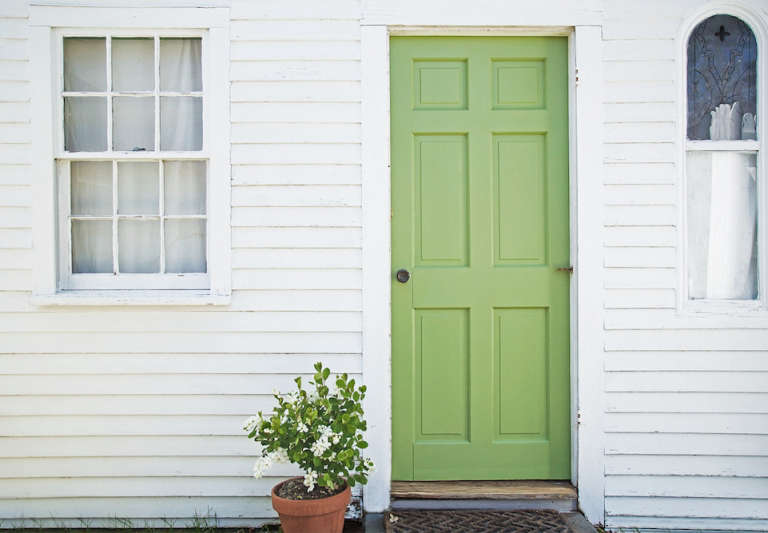 Back in February, we teamed with Farrow & Ball to share the Nine New Colors they added to their 132-color collection. Throughout April and May, Remodelista and Gardenista editors applied the colors in their own homes. Danny brightened his office with Vardo, Alexa painted old furniture using Worsted and Salon Drab, and Justine used Inchyra Blue on the butler's pantry in her historic home. Meredith turned an unused bedroom into an office with Shadow White and Drop Cloth, and Julie freshened her children's bedrooms in her Cape Cod cottage in Peignoir and Cromarty.
Now it's your turn to transform a room; visit Enter to Win: Color Consultation and Premium Paint from Farrow & Ball to learn how.
Remodelista editor in chief Julie Carlson also used Yeabridge Green to freshen up the facade of her small guest cottage in Wellfleet, MA. "The structure was originally a potting shed; my mother converted it into a guesthouse/studio decades ago," she says. "The mustard yellow door hadn't been repainted in years, so we decided to try out a new color."
Photography by Justine Hand for Gardenista.
Above: The spruced up entryway; "The existing paint had cracked and peeled after too many harsh New England winters," Julie says.
Above: Julie used Yeabridge Green paint in an Exterior Eggshell finish. All 132 Farrow & Ball colors are available in exterior finishes for durable use outside the home. For more, browse a list of all available Finishes.
Julie's newly green door works nicely with the potted flora.
Above: "Decades ago, my mother repurposed a set of wooden shutters, peeling paint included, as shower doors," Julie says. "In New England, we're pretty casual."
Above: A side view of the cottage.
Above: Behind the white painted fence is an outdoor shower, which gets daily use in the warmer months.
Before:
Above: The cottage's mustard yellow door needed a refresh.

Don't forget to Enter to Win a Color Consultation and Premium Paint from Farrow & Ball.
You need to login or register to view and manage your bookmarks.