Gaining a toehold in New York is hard enough, but how to find an affordable way out? After more than a decade in their East Village studio, Ann Stephenson and her girlfriend Lori Scacco decided they'd be staying for the long haul and went looking for a weekend place—without a car.
Ann is a poet and director of sales in the home division of Aesthetic Movement, Lori is a composer/musician (see Lori Scacco) who by day runs the design gallery Donzella 20th Century. Their search didn't take long: They sunk their savings into Far House, an A-frame on the western end of Fire Island that they bought from the family that built it in 1945 from a Gimbel's prefab kit. Working with an island contractor and crew—"a neighbor hooked us up with an amazing team"—and keeping a careful tally to stay on budget, they turned it into the ultimate no-fuss seaside retreat. And it's only a train- and ferry-ride away.
N.B. Love the kitchen? See Steal This Look: A Cheap and Cheerful Fire Island Kitchen, Summerhouse Edition.
Photography by Kate Sears.
Above: A raised wooden walkway leads to the house, which is positioned in a lush, two-block-wide community of winding boardwalks with views of ocean on one side and bay on the other. The 32-mile-long island has no paved roads and is car-free other than official vehicles.
Ann had been part of a classic Fire Island group share 20 years ago and hadn't been back since. "When a friend conjured up an old summer memory," she says, "I was viscerally reminded of what a magical place it is and set out to see what was possible now. Lori and I quickly saw that seasonal rental prices are like down payments on a house, so we shifted gears. We looked at only two properties for sale—as cliche as it may be, when we saw the listing for our A-frame, we knew it was the one. We love its off-kilter roofline, old-school salty rusticity, history (the couple who built it met as children on the island), and even its size."
Above: Ann and Lori closed on the house last December and were moving in by May. "All it needed was some updating and love," Ann tells us, ticking off a long list of improvements, including removing extraneous crossbeams, introducing a ductless heating and cooling unit in place of old in-the-wall ACs, replacing some windows, and pressure-washing and patching the exterior shingles. Though not winterized, the place—about 410 square feet, including the sleeping loft—is livable from March to November.
The previous owners had already given the raw wood on the interior a coat of white paint, and the couple completed the process by repainting the entire space down to the raw plywood floor in Benjamin Moore China White (matte finish on the walls, eggshell on the floor). The daybed is a longstanding Remodelista favorite by Mc & Co., and the white linen pillow shams and sheets are from Matteo.
Above: A vintage Byer cot (see our recent Camp Cot Trend Alert for sourcing ideas) is paired with a safari chair and ottoman, hand-me-downs from Ann's family with new leather covers. "Getting furniture to Fire Island requires that it be freighted over (or carried by us on the ferry), so this defined many of our decisions," says Ann. "We wanted simple, modular furnishings for ease of transport as well as for seasonal living." The cot and daybed double as the house's guest beds. The rug is an African palm frond mat from John Derian.
Above L: Votives at the ready. Above R: Ann and Lori collected vintage Alvar Aalto Stacking Stools from eBay and Etsy—"some Danish, some Swedish from various years"—and use them inside and outside. (See our post on Ikea's Frosta Stool for an affordable look-alike.)
Above: The living room opens to a galley kitchen. "Small as it may be, it's where we spent the majority of our budget," Ann tells us. A honed Carrara marble counter with a stainless sink and simple curtained base now stands in place of peeling veneer and an orange sink. The fridge is a Smeg. The marble came from Stone World Imports of Farmingdale, New York, and was fabricated and installed by Gran Marble of West Babylon, New York.
Above: The Swing Gooseneck Spout is a Chicago Faucets classic (since Chicago's handles are interchangeable, the couple chose three-inch Cross-Tapered Square Handles instead of the standard levers). The compact oven, a mere 20 inches wide, is the Summit WEM 110. "The range allows for maximum counter space and because it was affordable, the savings went directly into the Smeg purchase."
Above: The kitchen's three banks of shelves are built from Ikea $4 Ekby Valter birch brackets painted Benjamin Moore China White. The dishes are a collection of current and vintage Coupe Line pottery from Heath Ceramics. The utensil container is a Michele Quan Firefly Vase. The brass trivets and coasters and the pitcher (shown in the previous photo) are new designs from Sir/Madam, Aesthetic Movement's tableware line.
Above: Opposite the kitchen counter, the couple made use of narrow available space by introducing an Ikea hack—the $129 Rekarne pine console is painted Benjamin Moore China White and fitted with a honed Carrara marble top. To extend sight lines, the existing front door was replaced with a glass-fronted design.
Above: In several spots in the A-frame, the couple hung poplar Shaker Peg Rails that they ordered to size from NH Woodworking—"we provided the Benjamin Moore paint code and they even painted them for us."
Above: Who knew that peg rails could be so useful in a kitchen? The Hanging Cutting Boards are by Lostine.
Above: Ann and Lori in their entry. The kitchen ladder leads to the sleeping loft.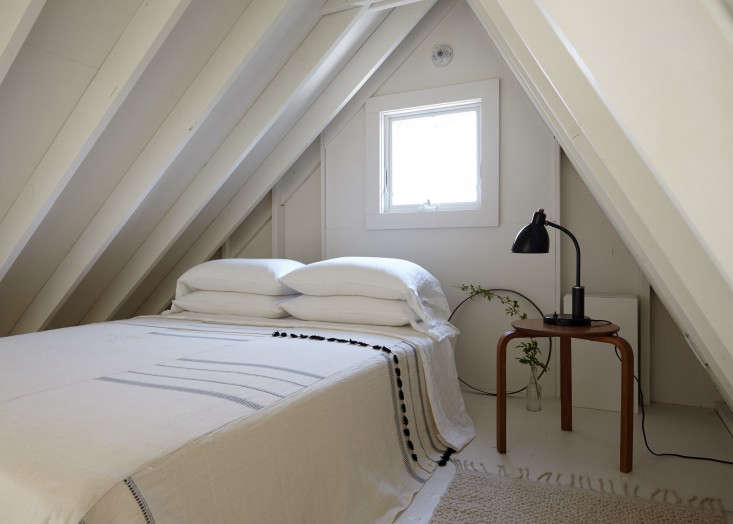 Above: An Aalto stool serves as a bedside table. The lamp is a vintage Christian Dell for Molitor design—Donzella sells a similar version.
Above L and R: The tasseled cotton bedspread is by Indian boutique line Injiri; contact Aesthetic Movement for retailers. The Wool Rug is by MexChic (see more in High-Style Design from South of the Border).
Above: Peg rails line the paneled wall outside the house's single closet and bathroom. The White Porcelain Doorknob is from House of Antique Hardware.
Above: The bath was updated with paint. The windows throughout have Belgian linen custom covers with tabs that hang from hidden hooks. "Traditional curtain hardware felt heavy and out of place, particularly since the house gets such immense and beautiful light. The curtain panels can go up with ease, or rest on nearby pegs when not in use, or be put away entirely."
Above: Built-in over-the-toilet shelving.
Above: The house's outdoor space includes a newly shored-up outdoor shower. The towel hooks are Galvanized Dock Cleats from Carolina Boat Outfitters. For more ideas, go to Nautical Hardware: 7 Cleats for Home Use.
Above: A shed with a replaced roof holds a washer/dryer and provides crucial storage. The Steel Wagon is used to transport supplies and luggage to and from the ferry.
Above: Much of life at the A-frame takes place on the deck. Ann and Lori's Roost Biergarten Table and Benches are collapsible for easy stowing at the end of the season. "We can't see the water from our house," says Ann, "but we hear the waves breaking from our deck as loud as can be; it's beyond magical."
To see another artful—and budget-conscious—escape from the city, take a look at The Ultimate Houseboat in NYC.