Beyond the loft bed: retractable sleeping platforms that literally disappear during the day, freeing up living space.
Above: Mad Men actor Vincent Kartheiser lives in a 580-square-foot cabin in Hollywood; designer and builder Funn Roberts devised a pulley-operated retractable loft bed (with a 300-pound counterweight). Photo by Joe Pugliese via Dwell.
Above: The bed in sleeping mode (the live-edge headboard is attached to the wall with hinges and flips down to create a desk when the bed is raised). Photo by Joe Pugliese via Dwell.
Above: For a tiny flat in the center of Taormina, Italy, architect Renato Arrigo created a cable system to raise and lower the master bed.
Above: The bed being raised; photo via Renato Arrigo.
Above: For the 2009 Solar Decathalon House, Cornell University students designed a crank-operated retractable bed.
Above: An electronically operated retractable bed by Flow in NYC.
Above: The Mobile Loft Bed from French company Espace Loggia rises to reveal a workspace.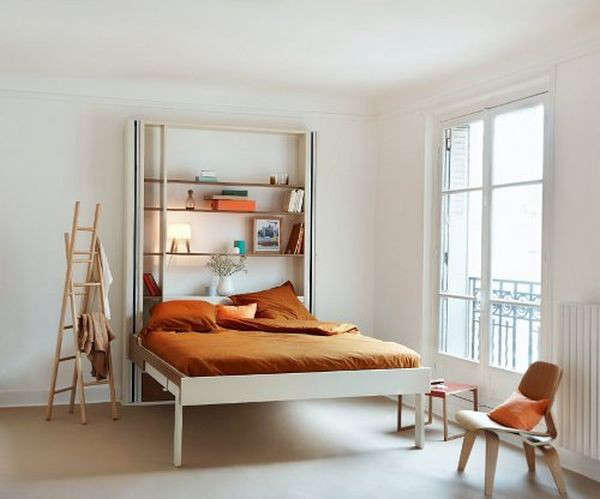 Above: The Mobile Loft Bed in sleep mode.
Looking for clever Small Space Living ideas? See Live/Work Furniture from Japan and The Studio Apartment, Garage Edition. And don't miss our survival guide posts from Gardenista's Erin Boyle: Life in a Tiny Apartment, Brooklyn Edition and 10 Tips for Living in 240 Square Feet.
On Gardenista, read about Subdividing a Small City Backyard to Make it Bigger.