"All you need is a mattress, something to hang your clothes on, and something to plant your ass on. Minimalism is about the essence of things, stripping away everything until only the necessary remains." That's Ivania Carpio of Love Aesthetics speaking, a Dutch blogger who practices what she preaches.
"When decorating (or not decorating) your surroundings with the bare essentials and tossing away everything you don't absolutely love, the only thing remaining will be your personality. Getting rid of clutter means getting rid of visual distraction and visual stress. No need for a closet for your books; align them, pile them, place them in sight. And a simple clothing rack is all you need to showcase your beloved clothes and become inspired. Arrange a home as if it were an art gallery, where you can enjoy every chair, lamp, book or jacket you own (or your kid's best drawings)." Here are five of Ivania's clever storage DIYs; see more at Love Aesthetics.
Above: "You'll need a tube, two hooks, and a metal cable. Put the cable through the tube and hang it onto the ceiling and you're done. We have this one hanging in our hallway, it's perfect for tiny Dutch homes where every space needs to be used as efficiently as possible; underneath we can put shoes, umbrellas and bags. I like to put different kinds of hangers on it, a couple of leather studded hangers from the 1980s, a few metal ones from IKEA and a couple of very thin ones from metal thread."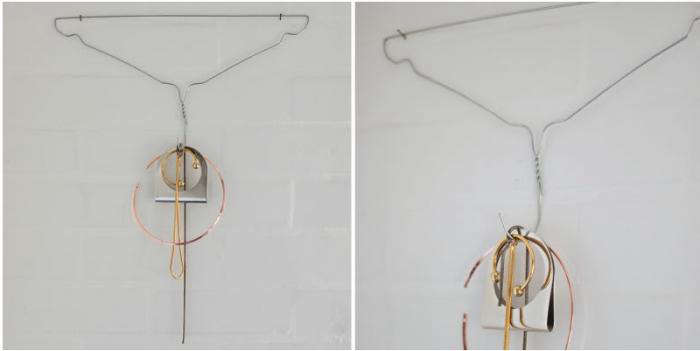 Above: "This is such a ridiculously easy way to create a new space to hang jewelry, clothes or hats that I don't really need to explain how to make one of your own, right?"
Above: "There have been tons of clothing racks made out of plumbing parts, here's my little version of it. It is the easiest, most uncomplicated clothing rack imaginable; it's basically just a frame that leans against the wall. And, surprisingly, it turned out sturdier than I thought it would be, and is also really easy to deconstruct and move around."
Above: "Every time I come across one of these (overpriced) tripod coat racks in a design furniture store, I remind myself how DIY-able they are and that I should make one. Today I put my own spin on the tripod rack using my favorite shades and materials; the usual white and metal, it always works. As it was too hard to get holes in the metal tubes I tied them together tightly with tie rips, which I later covered with metal foil tape. Doing this DIY literally took 10 minutes. The variations for this rack are endless (you could use branches or any metal or wooden bars and finish it off with a leather cord or colored rope."
Above: "Branch + paint + metal wire hangers + hooks = minimalist floating clothing rack. I found this amazingly shaped branch lying by the side of the road in Brussels. I took it all the way back to my home in The Netherlands, painted it white with latex water-based matte wall paint. Then I hung it between two metal wires that I attached to the ceiling with hooks. Voila! A new storage solution."
You need to login or register to view and manage your bookmarks.