Ever since I lived in a tiny apartment in Tokyo, I have been obsessed with corralling clutter. For some reason, I feel this most in the bedroom, where I want to see little more than a few books and a lamp. Headboards can be a great solution for storage, and I particularly like the built-in wraparound treatment in the first image (seen in a French home). Here's our roundup of noteworthy headboards for keeping clutter in check.
Above: Spotted on April and May, a wraparound headboard in a French home by interior designers Kalb Lempereur based in Montreuil.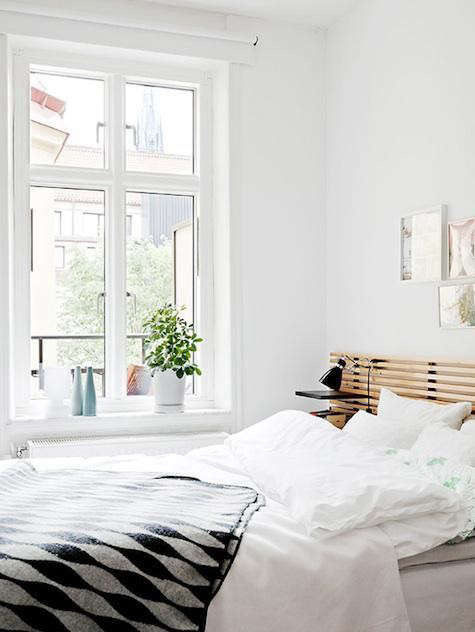 Above: A bedroom with an Ikea Birch Slatted Headboard with adjustable shelves. (The Mandal Headboard is $199 from Ikea.)
Above A wooden slatted wall with headboard shelving in a Loft-like Bedroom in Napa, designed by Erin Martin.
Above: Designed by Montreal-based studio Objets Mecaniques, this Walnut Headboard has a cleverly hidden storage shelf.
Above: In London, Christine's Bedroom features a headboard composed of cabinet doors that conceal bookshelves and an easily accessible shelf beneath.
Above: A Murphy bed pulls down to reveal a niche lined in walnut veneer that acts as a headboard in this small New York Loft designed by Studio Garneau.
Above: Bookshelves serve as a headboard in the sleeping nook of this Pennsylvania cottage by Darryl Carter.
Above: Daniel and Valerie of Hindsvik Shop created this plywood headboard in their bedroom, which runs the length of the wall with two plywood block tables on either side.
Above: Twin beds with a shared headboard and side storage in Carl Turner's rural Norfolk barn in the UK; spotted on Dwell.
Above: An Atherton, California, home by Turnbull Griffin Haesloop Architects uses a custom headboard as a partition that doubles as drawers on the reverse side.
Looking for a place to store books, other than the bedside? Check out our post on 10 Unexpected Places to Store Books.