In some families, people hang up their coats when they come indoors instead of flinging them onto the furniture (or floor). I've heard rumors of this behavior.
But things are a little different at my house. The first evidence that winter is coming is a trail of discarded backpacks, scarves, sweaters, and boots. It starts at the front door and ends in front of the refrigerator, broken up by the occasional jacket draped across a chair.
Me (to family): Have you heard of this revolutionary new invention called a "closet?"
Family (to me): <blank looks>
After a hundred years or so of making no progress fighting the coat war, I finally realized what the problem is. The amount of effort it takes to open a closet door, reach for a hanger, drape a coat across the hanger, replace the hanger on the rod, and close the closet door is too much effort. For some people. (To be fair, I got tired just typing all those steps.)
This year, I'll be ready: with pegs and hooks to hang coats. I've rounded up ten options that would lovely in nearly any hallway, entry, or mudroom. And if I install them right inside the door, on the wall that leads to the kitchen? Perhaps the chairs can go sleeveless.
Above: Photograph by Christine Chang Hanway.
See how nicely Christine's family hangs up their stuff? Christine bought a Shaker peg rail (above) from Peg and Rail, which offers a shelf and various finish options. She got a White Shelf Peg Rack because the shelf allows her to display art without having to commit to hanging it. It's available in lengths ranging from 18 inches (with three pegs) to 58 inches (with 10 pegs) at prices from $63 to $180.
For more ways Christine uses shaker pegs, see Remodeling 101: Shaker Pegs Saved My Life.
Above: If you prefer an unpainted wood, an Oak Peg Rail with six hooks has a slim profile. It measures 92 centimeters long and 7 centimeters high (approximately 36 inches long and nearly 3 inches high); $159 NZD (approximately $196 US).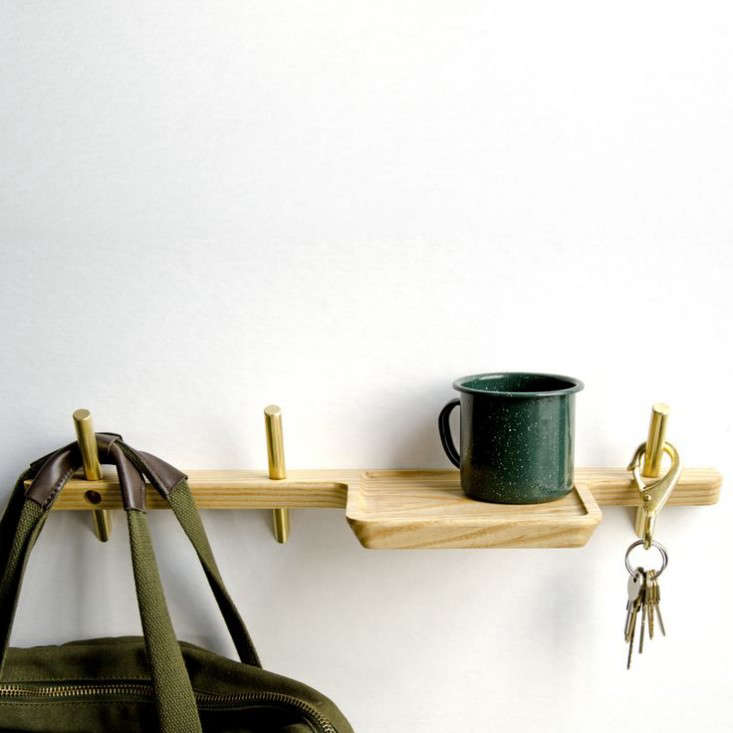 Above: Cincinnati-based designer John Dixon created a 20-inch-long Intersect Valet Shelf made of oiled ash wood and brass with three pegs to hang keys or bags; available with the shelf on either the right or left. It connects to the wall with two screws and is $148 from Dixon Branded.
Above: If you don't have room for a shelf, Dixon designed a version with a single peg; the Intersect Hook is $29 from Dixon Branded.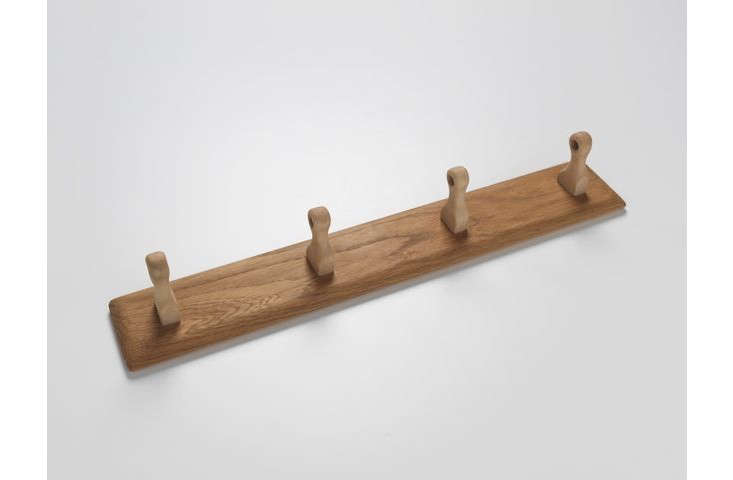 Above: East London designers Jonty Hampson and Sascha Gravenstein will only use timber if they know its history. Each Hampson Woods Hanging Rack is handmade of English oak with four pegs of London plane wood. Each peg has a hole for a clothes hanger; £95. (A smaller 2-Peg Hanging Rack is £65.)
Above: Made of untreated beech and with a steel pin that can be hammered into the wall, a set of five Beechwood Hooks will hang at an angle. They are as useful in the garden shed as the mudroom; 12.80€ from Manufactum.
Above: From LA-based Commune Design, a pair of raw birch round Ball Hooks is $30.
Above: Coatrack Dots are a favorite of Julie, who says, "Coatrack Dots by Tveit & Torní¸e for Nordic design studio Muuto are meant to be part wall sculpture, part storage." Smooth, round edges treat coats gently. A set of five Coatrack Dots comes with one large, one medium, and three small hooks; available in three finishes including solid ash and solid oak (shown); $149 from Design Within Reach.
Above: With a rougher finish, Dot Coat Hooks made in India from reclaimed sen wood have splits, cracks and knots; a set of three is $12.95 from CB2.
Above: UK-based designer Michael Marriott's solid beech round MMM Doughnuts hooks can also be used as handles. They come in a set of three and are from £19.95 All Lovely Things.
Looking for metal hooks? See 10 Easy Pieces: Sturdy Mudroom Hooks. Designing a mudroom? We have more ideas; see our week of DIY Mudroom posts.