The stacking dining chair isn't as easy to source as you might expect. (It's one of the reasons the Ercol chair is so ubiquitous. It's the go-to for tight dining spaces without being gimmicky.) We figure, a chair is extra useful if you can stack it three high, at least, so we've rounded up our favorites to do the job—Ercol included.
Above: Mattiazzi's She Said Chair by Nitzan Cohen is a stackable chair with curved armrests in natural or anlin ash; $1,579 at Hive Modern.
Above: Hay's Soft Edge Chair is made of molded plywood and stacks up to eight chairs; £249 ($328) at Atomic.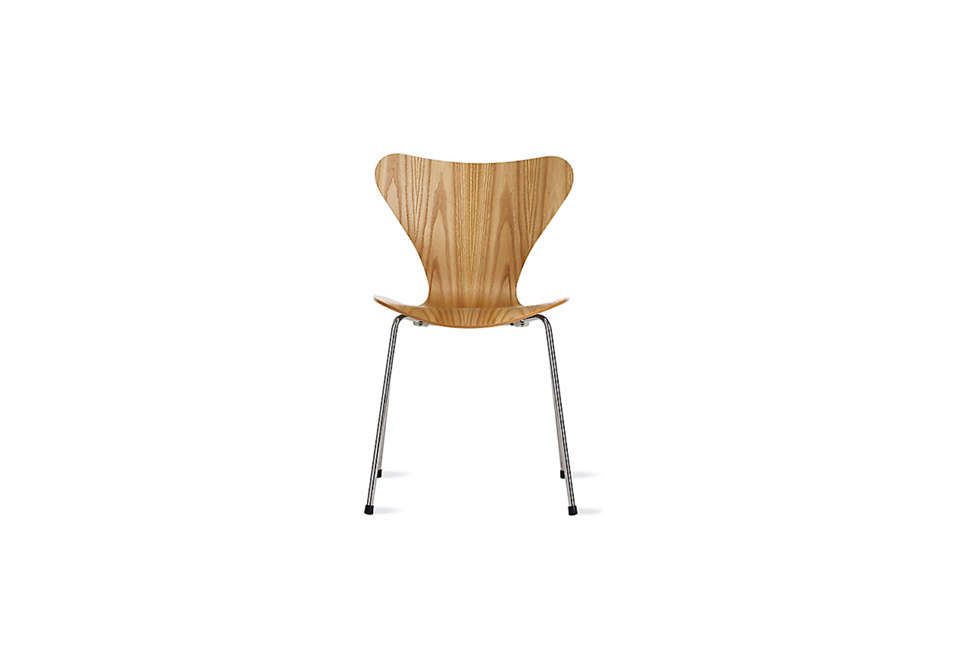 Above: The Series 7 Chair by Arne Jacobsen from 1955 is made of pressure-molded veneer and steel and stacks six high; $518-$735 in a range of colors and finishes at Design Within Reach.
Above: The Solo Chair is designed by Nitzan Cohen for Italian brand Mattiazzi with half moon armrests and stack three high; $719 at Hive Modern.
Above: Muuto's stackable Visu Tube Base Chair is made of compressed veneer in black, gray, and oak (shown); $319 at Design Public.
Above: From Danish design firm Please Wait to Be Seated, the stackable SE68 Dining Chair by Egon Eiermann is DKK 3,125 ($474).
Above: The Ercol Originals Stacking Chair is available in five finishes and four paint colors. Contact Ercol for local stockists. Ercol's Holland Park Chair also stacks up to three chairs. See how designers have reinterpreted this classic in our posts: Martino Gamper Furniture and Accessories at Everyday Needs and Updated British Classics from Ercol, Plus New Designs by Matthew Hilton.
Above: Designed by Ronan & Erwan Bouroullec for Hay, the Copenhague Chair stacks up very high; $243 each at Finnish Design Shop.
Above: The Thonet 330 St Chair, designed by Läufer + Keichel in 2012, comes with or without arms and either style is stackable up to five chairs. Contact Thonet for pricing and availability.
Above: The Osidea Hanna Sled Chair comes in six different finishes/colors and stacks up high; $399 each at Horne.
For more on dining chairs, see our posts: