Last week on the Martha Stewart Show, we featured an assortment of hardware, including hooks (an essential element in the organized home). Here are ten we like (and use), plus Martha's favorite.
Above: Martha's favorite—the 1904 Josef Hoffman hand-forged nickel-plated hook (H 5 7/8 by W 2 13/16 by D 5 3/4 inches)—is available exclusively through the Neue Galerie museum shop in NYC; $425.
Above: Waterworks Single Hook; $50 in chrome, available online from Waterworks.
Above: Polished Aluminum Hook; £10 at Refound Objects.
Above: The Sugatsune FC-65 Stainless Steel Hook measures 2 9/16 inches in length to support the heftiest robes and towels; $9.90 at Alema Hardware.
Above: Mirror-finish JF70 Stainless-Steel Hooks from Sugatsune; prices start at $13.13 for the small size at Alema Hardware.
Above: Polished nickel-plated solid brass Double Deco Coat Hook; 2 3/4 inches high; $7 at Rejuvenation.
Above: The Anonymous Double Hook from the Emiliana Design Studio in Spain is made of zinc-coated stainless steel; $48 at Conran.
Above: Designed by UK architects Sigerson Bates, the Basics Hook is available through specialty hardware maker Izé.
Above: The Kippford Hooks by Jon Harrison are meant to evoke the brass fittings—both functional and aesthetic—found on sailboats. Prices for the Kippford Hooks from Thorsten van Elten range from £15 to £22 each; made in England of polished brass or brushed stainless steel.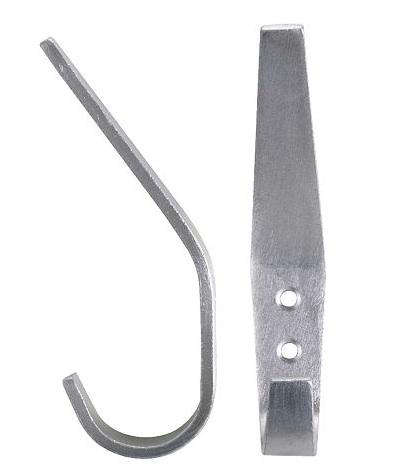 Above: The Vippa Aluminum Hook measures 5 7/8 inches high; $3.99 for a pack of two at Ikea.
Above: Vipp Bathroom Hooks; $120.61 for a set of two at All Modern.
Above: Aluminum Hook (H 5 1/4 inches); $44.80 for pack of four at Tree Hook.