Is a potting bench a luxury or a necessity? We think both. It's a way to avoid an aching back from squatting to pot plants, a means to contain gardening mess, and provider of outdoor storage. We're thinking a good potting bench can even do double duty as an outdoor drinks station come summer. We've rounded up ten of our favorites:
WOOD
Above: This hard-working Cedar Garden Center includes a deep top to contain soil and a tray that can be carried from the table to the garden. It measures a lengthy 73.5 inches long, 24 inches deep and 35.5 inches high; $234.98 through Amazon.
Above: The Vintage Galvanized Potting Table is made from a salvaged German biergarten table. The top is made from galvanized metal and the trim from reclaimed pine. The table measures 70-by-21-by-30 inches high, and the metal legs fold to pack flat for easy storage or transport; $699.95 at Williams Sonoma.
Above: For gardeners who prefer to stow their work station when not in use, a Folding Potting Bench from Brookstone measures 28-by-48-by-60 inches when open but folds flat and is available for $149.99 (assembly required).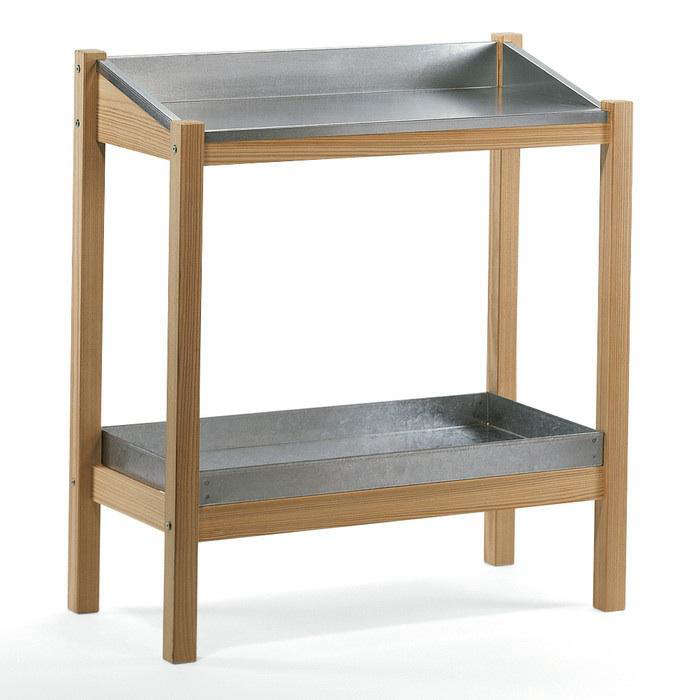 Above: Crafted by a German furniture maker, the Larch-Wood Gardener's Table has a weather-resistant larch wood frame and a three-sided galvanized steel work surface with two drain holes. Measuring 39-by-35.5-by-17 inches, the table is practical but compact, perfect for a size-challenged urban garden; £332 at Manufactum.
Above:  A minimal Reclaimed Cedar Wood Buffet and Potting Bench measures 39-by-22-by-36 inches and has a built-in drawer; $169.99 from Hayneedle.
Above: The Able Table Potting Bench by Maine Garden Products is made to be left outside year round. Built of Eastern white cedar combined with lobster trap wire, it is assembled using galvanized hardware. It comes with six brass hooks to hang garden tools and optional 5-inch wheels under two of the table legs. It measures 50-by- 26-by 45 inches; $282.73 at American Garden Tool Company.
Above: A Cedar Wood Potting Bench with Sink measures 48-by-24-by-37 inches and is $379.99 from Hayneedle.
METAL
Above: The Poly-Tex Galvanized Steel Potting Bench is durable and easy to clean. It measures 44-by-44-by-24 inches; $130.69 at Wayfair.
Above: The Palram Greenhouse Steel Potting Bench is constructed from corrosion-resistant galvanized steel. It stands 32 inches high and holds up to 80 pounds. The top shelf can be positioned upside down as a soil tray; $89 at Home Depot.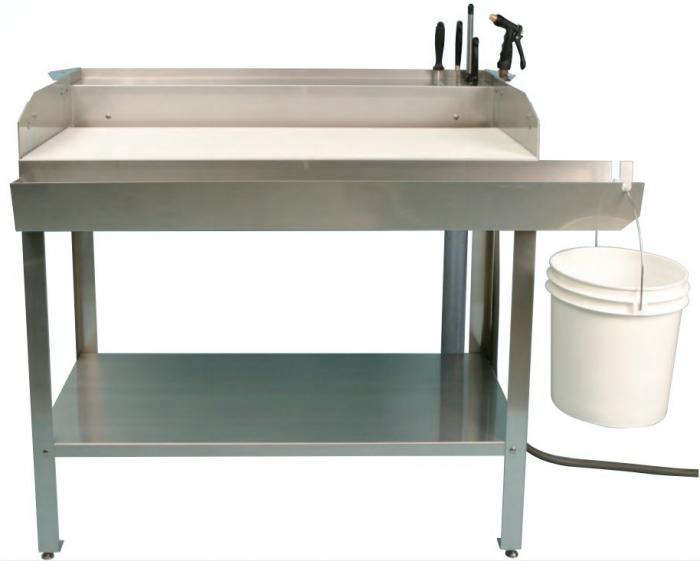 Above: For the serious gardener, Big Jakes Garden Center is made of rust-proof aluminum with a clear powder durable coating. It features a removable thick cutting-board-like plastic top, a debris catching gutter on the front, and storage shelf. It measures 19-by-29-by-55 inches; $463.72 from Growers House.
Above: Like the industrial look? Consider using a heavy-duty powder coated steel Mobile Work Bench as a potting station. It has a tray top and lower shelf and measures 30-by-60 inches; $328.95 at Global Industrial.
Looking for more potting shed accoutrements? See 10 Easy Pieces: Potting Shed Brushes.
N.B. This is an update of a post published on November 7, 2012.