One of my New Year's resolutions is to hang up my clothes every night instead of flinging them around the room; perhaps these hooks will help.
N.B.: For the DIYers out there, see Instant Hooks Made from Blocks.
Above: The new Stick Hooks from Normann Copenhagen are €20 per pair directly from Normann Copenhagen.
Above: Molo's Cork Pegs work with a magnetic mounting system and have a weight-bearing capacity of 2.7 pounds when an item is hung from the end and 4.8 pounds when an item is hung from the middle; $50 for a set of two at the Molo Store.
Above: The Coatrack Dot Hooks by Atle Tveit and Lars Tornøe from Muuto are an instant design classic; a set of five variously sized hooks is $149 from Design Within Reach (also available in black or yellow).
Above: Brooklyn designer David Zachary's Hang Out Hook is made from salvaged wood; $!8; contact David Zachary for ordering information.
Above: Designed by Michael Marriott, a set of three MMM Doughnut Hooks is £19.95 from All Lovely Stuff.
Above: Designed by Sebastian Berge of beechwood, the Talking Heads Coat Hooks are $98 for a set of four (also available in colors) at A+R Store in LA.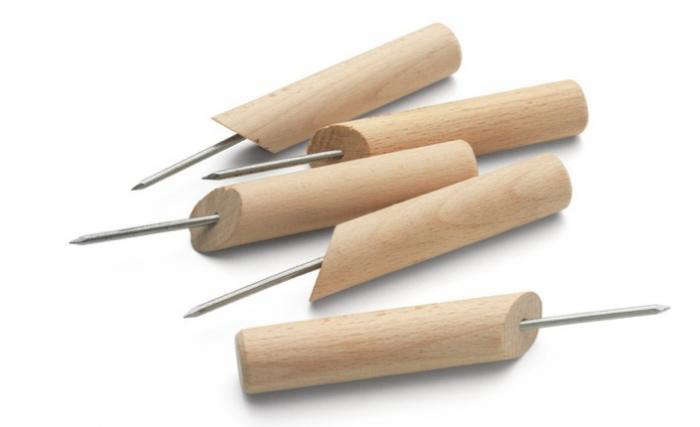 Above: A set of five Beech Hooks from Manufactum is €10.
Above: Stem Hooks made of birch or alder come with screws and rawlplugs; $20.95 for two from Ferm Living.
Above: A set of three rustic Papi Luc Hooks is €30 from Papi Luc.
Above: Man Made DIY offers a tutorial on making your own DIY Faceted Wood Knobs.
Above: Available in boxes of a half dozen, UK designer Schofield's Coat Eggs are an amusing take on the traditional coat peg; designed and laid in Yorkshire. For more information, go Daniel Schofield Studio.