We've all heard stories about professional chefs and cookbook writers cooking up a storm in cramped quarters with just the basics—a range, a refrigerator, maybe a dishwasher—all within arm's reach. Now a slew of appliances stand ready to take on the task. Here are our top picks for the small but mighty kitchen.
Ranges and Ovens
Above: Professional performance downsized: The BlueStar Companion Series 24-Inch Freestanding Gas Range in stainless steel has a generously sized 3.5-cubic-foot convection oven and four open burners with up to 22,000 BTUs. Available for natural gas or propane fuel source, it's $4,004 at Plessers.
Above: Super-small but well detailed, the Summit Professional 20-Inch Slide-In Gas Range (shown) has four burners, a 2.5-foot capacity oven, and a broiler drawer; $929 at AJ Madison. Limited to electric? Summit offers its electric professional-style ranges in 20-inch and 24-inch options. The Summit Professional Series 20-Inch Electric Range and the Summit Professional Series 24-Inch Electric Range in stainless steel feature four coil elements, towel bar handles, and a storage drawer; $899 and $949, respectively, at AJ Madison.
Above: The Fagor Metro Suite Gas Cooktop measures 12 by 20 inches and is $449 at Wayfair. Miele also offers an ultra-compact 12-inch Miele Double Combiset Gas Cooktop with stainless steel control knob, sealed burners, electric-spark ignition, and cast iron grate; $999 at AJ Madison.
Dishwashers
Good options for small kitchens on the dishwashing front include 18-inch-wide dishwashers and dishwasher drawers. And also take a look at our favorite countertop dish drainers.
Above: Bosch dishwashers consistently get top billing from consumer magazines. One to consider: The 18-Inch-Wide Bosch Fully Integrated Dishwasher (SPX5ES55UCX) holds nine place settings and has four wash cycles, including a half-load option. It comes with a stainless steel front or one that's custom-panel ready; $895 at AJ Madison.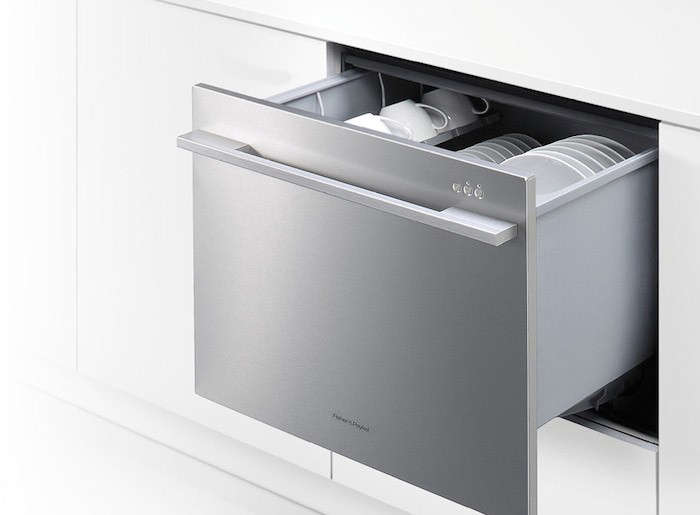 Above: The Fisher Paykel Tall Series Single DishDrawer (DD24ST) is another good choice. At only 24 inches wide, it holds seven place settings; $809 in stainless with a straight handle (shown) at AJ Madison. For more options, see Appliances: Dishwasher Drawers.
Refrigerators
The standard refrigerator-freezer has a 36-inch waistline. For smaller kitchens, consider apartment-size or counter-depth fridges that are a mere 24-inches wide (but fat with features). Two other options, the dorm-style mini-fridge and refrigerator drawer, are extreme space savers, though they offer substantially less storage space.
Above: Liebherr makes several sleek, compact, cabinet-depth refrigerators for smaller kitchens. The Liebherr CS136 24-inch, counter-depth, bottom-freezer refrigerator has a 13-cubic-foot capacity and is 79.8 inches tall. This Energy Star–qualified stainless design has separate cooling systems for the fridge and freezer, convenient freezer drawers, and an automatic ice maker; $3,279 at AJ Madison.
Above: NYC-based appliance company Summit has been specializing in compact refrigerators and freezers for commercial and special use since 1969. The company of late has been expanding its range of apartment-sized products. The Summit FFBF171 Counter-Depth Refrigerator-Freezer fits into a 24-inch opening (it's 23.63 inches wide and 77.63 inches tall) and offers 11.47 cubic feet of storage space, stainless steel doors, and digital controls; $1,269 (without ice maker) and $1,549 (with ice maker) at AJ Madison.
Above: No room for a standard-height fridge? Consider the dorm-sized but sophisticated-looking KitchenAid Architect II Compact Refrigerator. Designed for built-in or freestanding applications, it's Energy Star–rated for low energy draw; $1,529 at Lowe's.
Above: Refrigerator drawers are another space-saving solution. The compact, multifunctional CoolDrawer Multi-Temperature Refrigerator 3.1 by Fisher & Paykel goes from fridge to freezer to wine cooler at the touch of a button; $2,309 at US Appliance.
Above: For more compact options, see 5 Favorites: Skinny Refrigerators and 10 Easy Pieces: Compact Refrigerators. Photograph and kitchen design by Ore Studios of Seattle and Santa Fe.
Get more small-space ideas and inspiration:
This post is an update; the original ran on September 15, 2010, as part of our Going Green issue.